Belvedere
(redirected from belvederes)
Also found in:
Dictionary
,
Thesaurus
.
Belvedere
(bĕl`vədēr, Ital. bālvādĕ`rā)

, court of the Vatican named after a villa built (1485–87) for Innocent VIII. The villa was decorated with frescoes by Pinturicchio and others; a chapel painted by Mantegna was demolished when the villa was made part of the Museo Pio-Clementino at the end of the 18th cent. The Belvedere court, connecting the villa and the Vatican, was designed (1503–4) by Bramante for Julius II to include an architectural garden, a permanent theater, a museum building, and a statue court. The Laocoön, discovered in 1506, was placed in the statue court; in 1511 the Apollo Belvedere (see under ApolloApollo
, in Greek religion and mythology, one of the most important Olympian gods, concerned especially with prophecy, medicine, music and poetry, archery, and various bucolic arts, particularly the care of flocks and herds.
.....

Click the link for more information.

, in Greek religion) was installed in a special niche. When Bramante died in 1514, only a portion of the Belvedere was completed; many modifications were made under a succession of architects including Giuliano Sangallo, Raphael, Peruzzi, and Antonio Sangallo. Now a museum, the Belvedere still contains the Laocoön and the Apollo as well as other rare works of classical antiquity.
Bibliography
See study by J. S. Ackerman (1954).
The Columbia Electronic Encyclopedia™ Copyright © 2013, Columbia University Press. Licensed from Columbia University Press. All rights reserved.
www.cc.columbia.edu/cu/cup/
Belvedere
A building, architectural feature, or rooftop pavilion from which a vista can be enjoyed.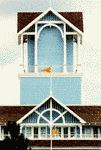 Illustrated Dictionary of Architecture Copyright © 2012, 2002, 1998 by The McGraw-Hill Companies, Inc. All rights reserved
The following article is from The Great Soviet Encyclopedia (1979). It might be outdated or ideologically biased.
Belvedere
(1) A tower, superstructure (most often round), or small, separate structure on an elevated spot, looking out on a distant view.
(2) The customary name for some palace structures located in beautiful natural settings, such as the summer residence of the pope in the Vatican (15th—16th centuries) and palaces in Prague (1536–60, architects G. Spatio and others), Vienna (1714–24, architect L. Hildebrandt), and Warsaw (1818–22, architect Ia. Kubitskii).
The Great Soviet Encyclopedia, 3rd Edition (1970-1979). © 2010 The Gale Group, Inc. All rights reserved.
belvedere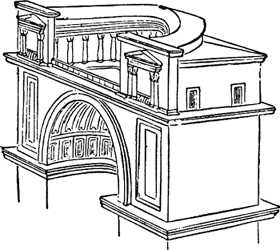 1. A rooftop pavilion from which a vista can be enjoyed.
McGraw-Hill Dictionary of Architecture and Construction. Copyright © 2003 by McGraw-Hill Companies, Inc.
belvedere
a building, such as a summerhouse or roofed gallery, sited to command a fine view
Collins Discovery Encyclopedia, 1st edition © HarperCollins Publishers 2005