bevel gear
Also found in:
Dictionary
,
Thesaurus
,
Acronyms
,
Wikipedia
.
bevel gear
a gear having teeth cut into a conical surface known as the pitch zone. Two such gears mesh together to transmit power between two shafts at an angle to each other
bevel gear
[

′bev·əl 'gir

]

(mechanical engineering)

One of a pair of gears used to connect two shafts whose axes intersect.
bevel gear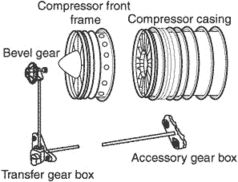 A pair of toothed wheels with teeth cut on a surface at an angle other than 90° to the axis of the shaft on which the wheels are mounted. Bevel gear permits one shaft to drive another shaft that is not parallel to it.