biaxial helicopter
biaxial helicopter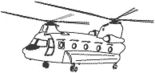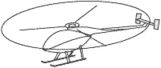 Biaxial
means two rotors located some distance apart from each other. There are four types of biaxial helicopter configurations:
i
. Conventional (main rotor and tail rotor). In this configuration, the tail rotor axis is perpendicular to the main rotor axis.
ii
. NOTAR (no tail rotor). Notwithstanding the nomenclature, there is a tail rotor situated closer to the main rotor gearbox that compresses air into an ejector tube and performs the same functions.
iii
. Tandem. In this configuration, there are two main rotors inline to the flight path.
iv
. Synchropters. In this arrangement, there are two main rotor axes—intermeshing under a small angle and a side-by-side configuration, in which two main rotor axes are perpendicular to the line of flight.
An Illustrated Dictionary of Aviation Copyright © 2005 by The McGraw-Hill Companies, Inc. All rights reserved