billet
(redirected from billeting)
Also found in:
Dictionary
,
Thesaurus
,
Legal
,
Idioms
.
billet
1
a space or berth allocated, esp for slinging a hammock, in a ship
---
billet
2
1.
Metallurgy
a. a metal bar of square or circular cross section
b. an ingot cast into the shape of a prism
2. Architect a carved ornament in a moulding, with short cylinders or blocks evenly spaced
Billet
a lengthy semifinished metal product used in producing parts through plastic deformation or machining. The billet's cross section is usually round but, depending on its intended use, may also be hexagonal, rectangular, trapezoidal, oval, or segmental. Billets are produced on a large scale from sufficiently ductile materials through the rolling process. Extrusion is used in producing smaller quantities from less ductile material, and forging is preferred when a large diameter is required. After rolling or extrusion, the billets are calibrated by hot or cold drawing in order to increase the precision of the shape or, in a number of cases, to improve the mechanical properties.
billet
[

′bil·ət

]

(engineering)

In a hydraulic extrusion press, a large cylindrical cake of plastic material placed within the pressing chamber.

(metallurgy)

A semifinished, short, thick bar of iron or steel in the form of a cylinder or rectangular prism produced from an ingot; limited to 1.5 inches (3.8 centimeters) in width and thickness with a cross-sectional area up to 36 square inches (232 square centimeters).
billet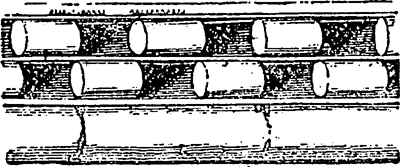 1. A common Norman or Romanesque molding formed by a series of circular (but