bioelectronics
Also found in:
Dictionary
,
Medical
,
Acronyms
,
Wikipedia
.
bioelectronics
[

¦bī·ō'i'lek′trän·iks

]

(biophysics)

The application of electronic theories and techniques to the problems of biology.

The use of biotechnology in electronic devices such as biosensors, molecular electronics, and neuronal interfaces; more speculatively, the use of proteins in constructing circuits.
Bioelectronics
A discipline in which biotechnology and electronics are joined in at least three areas of research and development: biosensors, molecular electronics, and neuronal interfaces. Some workers in the field include so-called biochips and biocomputers in this area of carbon-based information technology. They suggest that biological molecules might be incorporated into self-structuring bioinformatic systems which display novel information processing and pattern recognition capabilities, but these applications—although technically possible—are speculative.
Of the three disciplines—biosensors, molecular electronics, and neuronal interfaces—the most mature is the burgeoning area of biosensors. The term biosensor is used to describe two sometimes very different classes of analytical devices—those that measure biological analytes and those that exploit biological recognition as part of the sensing mechanism—although it is the latter concept which truly captures the spirit of bioelectronics. Molecular electronics is a term coined to describe the exploitation of biological molecules in the fabrication of electronic materials with novel electronic, optical, or magnetic properties. Finally, and more speculatively, bioelectronics incorporates the development of functional neuronal interfaces which permit contiguity between neural tissue and conventional solid-state and computing technology in order to achieve applications such as aural and visual prostheses, the restoration of movement to the paralyzed, and even expansion of the human faculties of memory and intelligence. The common feature of all of this research activity is the close juxtaposition of biologically active molecules, cells, and tissues with conventional electronic systems for advanced applications in analytical science, electronic materials, device fabrication, and neural prostheses.
electroceutical
(ELECTROnic pharmaCEUTICAL) Bioelectronic devices implanted in the human body. Pacemakers and defibrillators were the first such devices, followed by implants in the spine, ears and eyes. Instead of drugs (pharmaceutical), electroceutical devices stimulate nerves and tissue. See bioinformatics and micro array.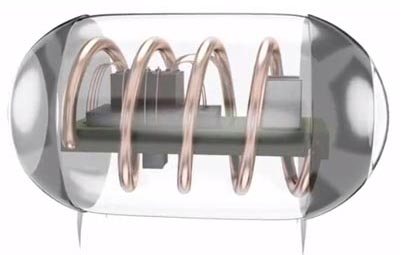 Amazing Potential
In 2014, Stanford University researchers Ada Poon and John Ho invented a wireless chip the size of a grain of rice (top) that attaches to and stimulates nerves to relieve chronic pain and other diseases. "Neurostimulator" chips can be implanted deep in the body and powered externally via "midfield" electromagnetic radiation. The implants can contain their own minuscule rechargeable battery or be batteryless and activated when therapy is needed. (Images courtesy of Poon Lab, Stanford Engineering Department.)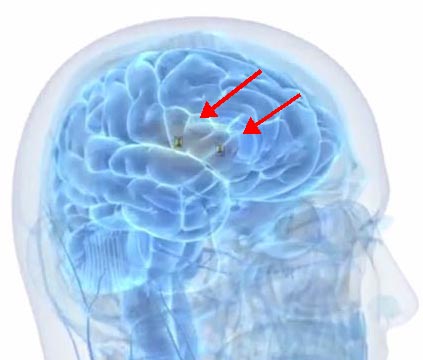 Amazing Potential
In 2014, Stanford University researchers Ada Poon and John Ho invented a wireless chip the size of a grain of rice (top) that attaches to and stimulates nerves to relieve chronic pain and other diseases. "Neurostimulator" chips can be implanted deep in the body and powered externally via "midfield" electromagnetic radiation. The implants can contain their own minuscule rechargeable battery or be batteryless and activated when therapy is needed. (Images courtesy of Poon Lab, Stanford Engineering Department.)