blackberry
(redirected from blackberry bush)
Also found in:
Dictionary
,
Thesaurus
,
Financial
,
Wikipedia
.
blackberry
blackberry,
name for several species of thorny plants of the genus
Rubus
of the family Rosaceae (
rose
family). See
bramble
.
The Columbia Electronic Encyclopedia™ Copyright © 2022, Columbia University Press. Licensed from Columbia University Press. All rights reserved.
blackberry
The best known berries in the world, basically black raspberries. Look like mulberries, but grow on a vine. Called "Brambles" in U.K. Entire plant is useable, including roots. Young shoots coming out of ground in spring are great raw in salads. Leaf and root tea used for general health, digestive issues, diarrhea, dysentery, hemorrhoids, sore throat, gum disease, mouthwash. cystitis, gout. Super high in antioxidants and vitamins. Seeds have Omega 3 & 6 fatty acids. Blackberry leaves contain a newly discovered anti-aging anti-wrinkle wonder stuff that fights MMPs,-enzymes that break down collagen and elastin, making our skin loose and saggy and wrinkly. Blackberry leaf extract also has elastin boosting properties. Berries mold very quickly, especially when wet. White 5 petal flowers. Most plants have thorns, even each leaf has one. Best to use leaves only when dried. Root is most astringent part.
Edible Plant Guide © 2012 Markus Rothkranz
The following article is from The Great Soviet Encyclopedia (1979). It might be outdated or ideologically biased.
Blackberry
the subgenus Eubatus of the genus Rubus (raspberry, dewberry) of the family Rosaceae. The plants are shrubs with perennial rhizomes and biennial aboveground shoots that are usually covered with thorns. The flowers are bisexual, usually white in color, less frequently pink, and are gathered in racemose inflorescences. The fruits are aggregate juicy stonefruits, black or black-red in color, with a gray bloom in many species; the fruits do not separate from the soft receptacle.
There are more than 200 known species of blackberries distributed in North America and Eurasia. In the USSR there are 42 species, mainly in the Caucasus; there are fewer species in the southern Ukraine and Middle Asia. Many species that grow wild are suitable for cultivation because of their large tasty fruits. These species include R. caucasicus, R. sanguineus, R. dolichocarpus, and the dewberry (R. caesius). The fruits contain 4–8 percent sugars and 0.8–1.4 percent acids, vitamin C, and carotene (provitamin A). They are used fresh or dried, or in the form of preserves and jam. Blackberries are grown mainly in America and Europe; in the USSR they are cultivated mainly by amateur gardeners in the southern parts of the country and in the central fruit-growing region. Approximately 300 varieties of cultivated blackberries are known. They are divided into two groups according to the way they grow: blackberries proper, with erect stems, and cut-leaved blackberries, with trailing stems. The cut-leaved varieties are propagated predominantly by terminal stem buds; blackberries proper are propagated by root shoots. A mature plantation yields 5–7 tons per hectare. Blackberries are economically productive for 12–15 years.
The Great Soviet Encyclopedia, 3rd Edition (1970-1979). © 2010 The Gale Group, Inc. All rights reserved.
blackberry
[

′blak'ber·ē

]

(botany)

Any of the upright or trailing shrubs of the genus Rubus in the order Rosales; an edible berry is produced by the plant.

McGraw-Hill Dictionary of Scientific & Technical Terms, 6E, Copyright © 2003 by The McGraw-Hill Companies, Inc.
blackberry
1. any of several woody plants of the rosaceous genus Rubus, esp R. fruticosus, that have thorny stems and black or purple glossy edible berry-like fruits (drupelets)
2.
a. the fruit of any of these plants
b. (as modifier): #5blackberry jam
3. blackberry lily an ornamental Chinese iridaceous plant, Belamcanda chinensis, that has red-spotted orange flowers and clusters of black seeds that resemble blackberries
Collins Discovery Encyclopedia, 1st edition © HarperCollins Publishers 2005
BlackBerry
The Canadian company in Waterloo, Ontario that pioneered email on the BlackBerry smartphone. Founded in 1984 as Research In Motion (RIM), the company renamed itself after its product line in 2013.

In the early 2000s, BlackBerrys were "the" smartphones in corporations. However, by the time a new and promising smartphone line was introduced in 2013, iPhones and Androids had captured the market. In late 2016, TCL Communications took over the brand and released several BlackBerry models using the Android operating system. In 2020, the BlackBerry-TCL arrangement ended. See BlackBerry Key.

BlackBerry Email Pioneered the Smartphone
In the 1980s and 1990s, RIM products were text-only pagers that used the Mobitex network. In 1995, two-way messaging was introduced. However, the big change occurred in 1999 when the BlackBerry pager became the first mobile device that synchronized with a company's email server (see BlackBerry Enterprise Server). See Mobitex.

In 2002, GSM voice and GPRS data were added in the model 5810, making it the first BlackBerry smartphone. Two years later, a million people were using them, and in 2009, with so many repeat users, the 50 millionth BlackBerry was sold.

BlackBerry Competitors
In the late 2000s, iPhones and Androids offered slick touchscreen apps, as well as email synchronization, BlackBerry's claim to fame. As iPhone and Android sales skyrocketed, BlackBerry users switched, and by the time the totally modernized BlackBerry 10 emerged in 2013, sales were barely 1% of the market (see BlackBerry 10). The company launched a turnaround plan that focused on selling mobile security software to enterprises and deriving royalties from its thousands of patents. In 2015, the first Android-only BlackBerry debuted (see BlackBerry Priv). See BlackBerry App World, BlackBerry Enterprise Server, BlackBerry Storm, CrackBerry, BlackBerry Messenger and smartphone.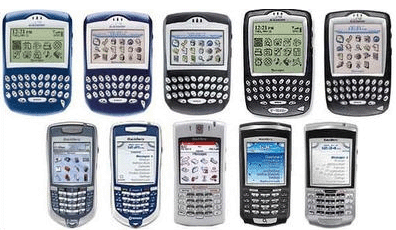 Classic BlackBerry Models
Until the Storm came out in 2008, BlackBerrys had physical keyboards, which was their distinguishing feature. Using both thumbs, people learned to type quickly (see thumb culture). (Images courtesy of BlackBerry, www.blackberry.com)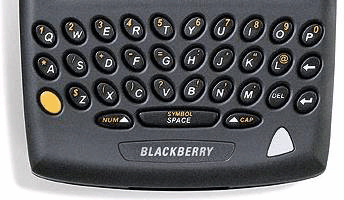 Classic BlackBerry Models
Until the Storm came out in 2008, BlackBerrys had physical keyboards, which was their distinguishing feature. Using both thumbs, people learned to type quickly (see thumb culture). (Images courtesy of BlackBerry, www.blackberry.com)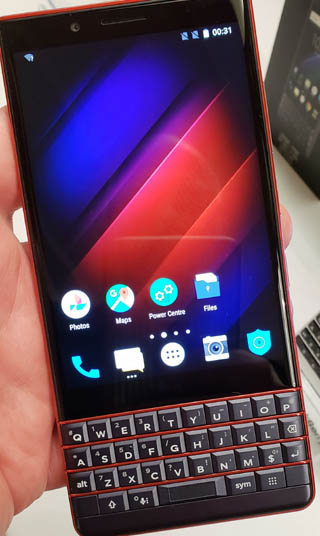 Android on BlackBerry Key
The classic BlackBerry keyboard running the Android operating system. See BlackBerry Priv and BlackBerry Key.
Copyright © 1981-2019 by The Computer Language Company Inc. All Rights reserved. THIS DEFINITION IS FOR PERSONAL USE ONLY. All other reproduction is strictly prohibited without permission from the publisher.