blade loading
blade loading
[

′blād 'lōd·iŋ

]

(aerospace engineering)

A rotor's thrust in a rotary-wing aircraft divided by the total area of the rotor blades.

McGraw-Hill Dictionary of Scientific & Technical Terms, 6E, Copyright © 2003 by The McGraw-Hill Companies, Inc.
blade loading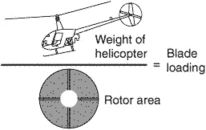 The ratio of the all-up weight of a helicopter to the total area of a rotor, excluding the disc area. It is the amount of the total weight each square foot of a helicopter rotor blade supports. Since blade area does not change, blade loading must be a constant in flight. Also called
disc loading
.
An Illustrated Dictionary of Aviation Copyright © 2005 by The McGraw-Hill Companies, Inc. All rights reserved