blade shank
blade shank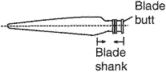 The thick, rounded portion of a propeller blade near the hub.
References in periodicals archive
?
To select the right jig saw blade for the job, first determine the type of
blade shank
required by the manufacturer.
The propeller EI noted that a visual inspection had revealed an intact anodized coating on the
blade shank
, but no evidence of foam was found on the
blade shank
.