blanket
Also found in:
Dictionary
,
Thesaurus
,
Medical
,
Financial
,
Acronyms
,
Idioms
,
Wikipedia
.
blanket
blanket, sheet, usually of heavy woolen, or partly woolen, cloth, for use as a shawl, bed covering, or horse covering. The blanketmaking of primitive people is one of the finest remaining examples of early domestic artwork. The blankets of Mysore, India, were famous for their fine, soft texture. The loom of the Native American, though simple in construction, can produce blankets so closely woven as to be waterproof. The Navaho, Zuñi, Hopi, and other Southwestern Native Americans are noted for their distinctive, firmly woven blankets. The Navahos produced beautifully designed blankets characterized by geometrical designs woven with yarns colored with vegetable dyes. During the mid-19th cent. the Navahos began to use yarns imported from Europe, because of their brighter colors. The ceremonial Chilcat blanket of the Tlingit of the Northwest, generally woven with a warp of cedar bark and wool and a weft of goats' hair, was curved and fringed at the lower end. In the 20th cent., the electric blanket, with electric wiring between layers of fabric, gained wide popularity.
The Columbia Electronic Encyclopedia™ Copyright © 2022, Columbia University Press. Licensed from Columbia University Press. All rights reserved.
blanket
[

′blaŋ·kət

]

(graphic arts)

In offset lithography, a rubber sheet covering the cylinder of an offset press that transfers the image from the plate to the paper.

(mining engineering)

A textile material used in ore treatment plants for catching coarse free gold and sometimes associated minerals, for example, pyrite.

(nucleonics)

A layer of fertile uranium-238 or thorium-232 material placed around or within the core of a nuclear reactor to breed new fuel.

McGraw-Hill Dictionary of Scientific & Technical Terms, 6E, Copyright © 2003 by The McGraw-Hill Companies, Inc.
blanket
Physics a layer of a fertile substance placed round the core of a nuclear reactor as a reflector or absorber and often to breed new fissionable fuel
Collins Discovery Encyclopedia, 1st edition © HarperCollins Publishers 2005
offset press
A printer that uses an intermediate rubber-coated cylinder known as a "blanket" to transfer the image onto the paper. Instead of transferring the image from a metallic drum onto paper as is done with most digital printers, the image is "offset" onto the blanket and then to paper. The blanket creates a smoother image on most types of paper and can print on rough or heavy stock as well as other media. Most offset presses use this lithographic method.

Sheet Fed and Web Fed
Sheet-fed offset printers use cut sheets of paper, whereas web-fed printers use rolls of paper that are cut and trimmed after printing. The web-based offset method is typically used for high-speed, high-volume applications such as printing newspapers and magazines.

Right Reading to Wrong Reading
Since offset presses use the intermediate blanket as the transfer mechanism, the original negative image on the drum is right-reading. It becomes wrong-reading on the blanket and then back to the original on the paper.

Combination Offset and Laser
Indigo USA, Woburn, MA (www.indigonet.com), which was acquired by HP in 2002, combines laser printing and offset printing. It makes a "digital offset color press," which is an electrophotographic printer that offsets to a blanket instead of imaging directly from the drum. It also uses a special liquid toner instead of dry toner, enabling it to print on polyester, PVC, films and other media as well as coated and uncoated paper. See lithography, digital printing, right-reading and DI press.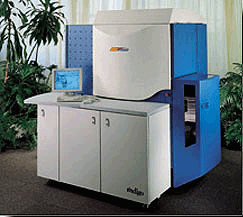 Offset and Digital, Too
HP Indigo's "digital offset color presses" are digital printers that use a blanket to image the pages instead of directly from the drum. Combined with its Electroink dry toner, Indigo printers can print on a wide variety of substrates. (Image courtesy of Hewlett-Packard Company.)
Copyright © 1981-2019 by The Computer Language Company Inc. All Rights reserved. THIS DEFINITION IS FOR PERSONAL USE ONLY. All other reproduction is strictly prohibited without permission from the publisher.