bleed
Also found in:
Dictionary
,
Thesaurus
,
Medical
,
Financial
,
Idioms
,
Wikipedia
.
bleed
[

blēd

]

(chemistry)

Diffusion of coloring matter from a substance.

(computer science)

In optical character recognition, the flow of ink in printed characters beyond the limits specified for their recognition by a character reader.

(engineering)

To let a fluid, such as air or liquid oxygen, escape under controlled conditions from a pipe, tank, or the like through a valve or outlet.

(graphic arts)

The extension of a photograph or other artwork to the very edge of the printed page.

(medicine)

To exude blood from a wound.
bleed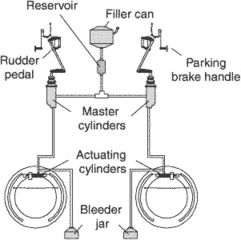 i
. To allow a quantity of fluid or air to escape from a closed system until excess pressure has fallen to a lower level or is equalized with the surroundings (e.g., high-pressure fuel pumps).
ii
. To remove unwanted fluid contaminating a system filled with other fluids (e.g., bleeding air from an aircraft's brake system).
iii
. To extract a small proportion of fluid from a continuously flowing supply (e.g., compressed air from gas turbine engines for an aircraft pressurization system).
iv
. To allow air speed to decay to a desired level.
bleed
Printing at the very edge of the paper. Many laser printers, including all LaserJets up to the 11x17" 4V, cannot print to the very edge, leaving a border of approximately 1/4". In commercial printing, bleeding is generally more expensive, because wider paper is often used, which is later cut to size.