blind zone
blind zone
[

′blīnd 'zōn

]

(communications)

Area from which echoes cannot be received; generally, an area shielded from the transmitter by some natural obstruction and therefore from which there can be no return.

McGraw-Hill Dictionary of Scientific & Technical Terms, 6E, Copyright © 2003 by The McGraw-Hill Companies, Inc.
blind zone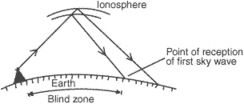 i
. In radar, it refers to the direction from which echoes cannot be received. This results from objects getting in the way of radar signals.
ii
. In communications system, it is an area or direction from which signals cannot be received or to which messages cannot be transmitted. In HF (high frequency) communications, it is the arc between the transmitter and the point where the sky wave meets the ground at the first instance. In VHF (very high frequency) and UHF (ultrahigh frequency) communications, buildings or hills can create blind zones.
iii
. The portions of the airport not visible from the control tower. See also
blind spot
.
An Illustrated Dictionary of Aviation Copyright © 2005 by The McGraw-Hill Companies, Inc. All rights reserved