bolt
(redirected from bolt from the blue)
Also found in:
Dictionary
,
Thesaurus
,
Medical
,
Financial
,
Idioms
.
bolt
1. an arrow, esp for a crossbow
---
Bolt
Robert (Oxton). 1924--95, British playwright. His plays include A Man for All Seasons (1960) and he also wrote a number of screenplays
Bolt
A rod or pin, with a permanent head on one end, that holds parts of a building or structure together.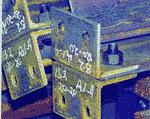 bolt
[

bōlt

]

(design engineering)

A rod, usually of metal, with a square, round, or hexagonal head at one end and a screw thread on the other, used to fasten objects together.

(forestry)

A short section of tree trunk.

(materials)

In veneer production, a short log of a length suitable for peeling on a lathe.

(mining engineering)

(ordnance)

The sliding part in a breechloading weapon that pushes a cartridge into position and holds it there as the gun is fired.

(textiles)

The entire length of cloth from a loom.
bolt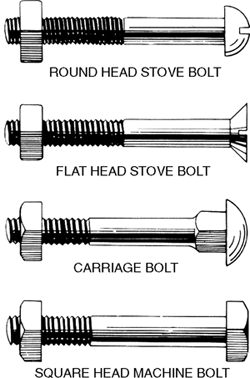 1. A metallic pin or rod having a head at one end and an external thread on the other for screwing up a nut; used for holding members or parts of members together.
2. A short section cut from a tree trunk.
3. A short log from which veneer is peeled.