bootstrap
Also found in:
Dictionary
,
Thesaurus
,
Medical
,
Financial
,
Idioms
.
bootstrap
[

′büt'strap

]

(computer science)

The procedures for making a computer or a program function through its own actions.

(engineering)

A technique or device designed to bring itself into a desired state by means of its own action.
bootstrap
(operating system, compiler)

To load and initialise the

operating system

on a computer. Normally abbreviated to "

boot

". From the curious expression "to pull oneself up by one's bootstraps", one of the legendary feats of Baron von Munchhausen. The

bootstrap loader

is the program that runs on the computer before any (normal) program can run. Derived terms include

reboot

,

cold boot

,

warm boot

,

soft boot

and

hard boot

.

The term also applies to the use of a

compiler

to compile itself. The usual process is to write an

interpreter

for a language, L, in some other existing language. The compiler is then written in L and the interpreter is used to run it. This produces an

executable

for compiling programs in L from the source of the compiler in L. This technique is often used to verify the correctness of a compiler. It was first used in the

LISP

community.

See also

My Favourite Toy Language

.
boot
A boot causes the computer to start executing instructions. PCs and Macs contain built-in instructions in a ROM or flash memory chip that are automatically executed on startup. These instructions search for the operating system, load it and pass control to it. Booting a computer today means turning it on or selecting Restart. In the early days of computing, booting required pressing several buttons at the console.

Put Your Boots On!
The term comes from "bootstrap." Since bootstraps help you get your boots on, booting the computer helps it get its first instructions. The term is often used erroneously for application software. For example, you might hear someone say "let's boot Excel," whereas the correct usage is "launch Excel" or "load Excel." See cold boot, warm boot, clean boot, boot loader and first boot sequence.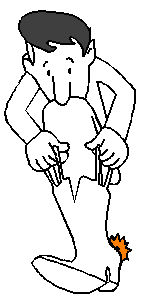 You Need Help to Get Started
System Commander was an earlier boot manager that allowed users to install any number of different operating systems on their PCs. On startup, this menu let you choose your OS. (Screen shot courtesy of V Communications, Inc.)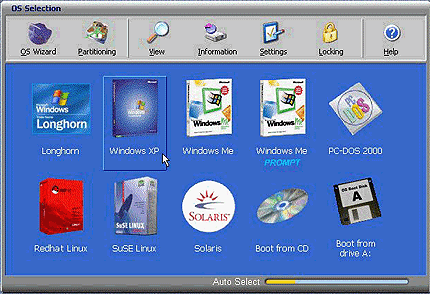 All the Boots You'll Ever Need
System Commander was an earlier boot manager that allowed users to install any number of different operating systems on their PCs. On startup, this menu let you choose your OS. (Screen shot courtesy of V Communications, Inc.)