Border
(redirected from border molding)
Also found in:
Dictionary
,
Thesaurus
,
Medical
,
Financial
.
border
1. the dividing line or frontier between political or geographic regions
2.
a. a region straddling such a boundary
b. (as modifier): border country
3.
a. a design or ornamental strip around the edge or rim of something, such as a printed page or dinner plate
b. (as modifier): a border illustration
4. a long narrow strip of ground planted with flowers, shrubs, trees, etc., that skirts a path or wall or surrounds a lawn or other area
---
Border
1
Allan (Robert). born 1955, Australian cricketer; captain of Australia (1985--94)
---
Border
2
the
1. the area straddling the border between England and Scotland
2. the area straddling the border between Northern Ireland and the Republic of Ireland
3. the region in S South Africa around East London
Collins Discovery Encyclopedia, 1st edition © HarperCollins Publishers 2005
Border
A margin, rim, or edge around or along an element; a design or a decorative strip on the edge of an element.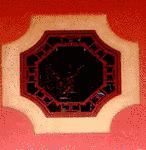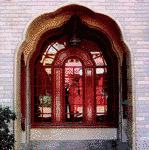 Illustrated Dictionary of Architecture Copyright © 2012, 2002, 1998 by The McGraw-Hill Companies, Inc. All rights reserved
The following article is from The Great Soviet Encyclopedia (1979). It might be outdated or ideologically biased.
Border
a part of a theatrical set consisting of a piece of fabric hung above the stage on a rod to conceal the gridiron, suspended sets, and the openings over the sets. The first border is part of the stage portal and of the permanent wings.
---
Border
a flower bed in the form of a strip measuring from 0.5 to 3 m wide and edged with ornamental border plants. In a large area, a border is divided into sections by paths that are 20–25 m long. Each border contains one type or a mixture of simultaneously annual, perennial, bulbous, mat or leafy ornamental blooming plants set in lengthwise rows or in a pattern. Borders are commonly used for decorative purposes in gardens and parks in populated places, especially in parterres.
The Great Soviet Encyclopedia, 3rd Edition (1970-1979). © 2010 The Gale Group, Inc. All rights reserved.
border
In a theater, a strip of material which is stretched horizontally over the top of a stage, usually on rigging; used to mask the flies, lights, and other objects of scenery or overhead machinery.
McGraw-Hill Dictionary of Architecture and Construction. Copyright © 2003 by McGraw-Hill Companies, Inc.