Curtain
(redirected from bringing down the curtain on)
Also found in:
Dictionary
,
Thesaurus
.
curtain
1. a hanging cloth or similar barrier for concealing all or part of a theatre stage from the audience
2. the end of a scene of a play, opera, etc., marked by the fall or closing of the curtain
3. the rise or opening of the curtain at the start of a performance
Collins Discovery Encyclopedia, 1st edition © HarperCollins Publishers 2005
The following article is from The Great Soviet Encyclopedia (1979). It might be outdated or ideologically biased.
Curtain
(theater), part of the equipment of a stage or of a theatrical production. The curtain that closes off the stage from the auditorium between scenes, before the beginning and after the end of a performance, and during intervals between acts is called the entr'acte curtain. The curtain that closes off part of the stage during the performance of an interlude on the proscenium is called the interlude curtain. Theater curtains may be parted, raised and lowered, or lit (the light being provided by lighting units). A fireproof curtain is designed to hermetically seal off the stage from the auditorium.
A curtain that dropped into a recess in front of the stage was first used in classical times in Greek and Roman theaters. During the Renaissance, when stages were equipped with gridirons, a raised curtain began to be used. It was usually painted, often by famous artists, with mythological or allegorical themes and harmonized with the decorative scheme of the auditorium. Many theaters built in the 19th and 20th centuries have curtains of this type. In 20th-century theaters a curtain is frequently part of the staging of a play and is made for a specific production. Thus, for example, in 1917 the artist A. la. Golovin painted ten curtains (one for each scene) for M. lu. Lermontov's The Masquerade performed at the Aleksandrinskii Theater. In the contemporary theater curtains are sometimes dispensed with, according to the director's intent.
---
Curtain
a section of a fortress wall, usually rectilinear, that connects the facing parts of two neighboring bastions and, with them, forms the bastioned front.
The Great Soviet Encyclopedia, 3rd Edition (1970-1979). © 2010 The Gale Group, Inc. All rights reserved.
curtain
[

′kərt·ən

]

(geology)

A thin sheet of dripstone that hangs or projects from a cave wall.

A rock formation connecting two adjacent bastions.

(nucleonics)

A thin shield, usually cadmium, used in a nuclear reactor to shut off a flow of slow neutrons.

McGraw-Hill Dictionary of Scientific & Technical Terms, 6E, Copyright © 2003 by The McGraw-Hill Companies, Inc.
curtain wall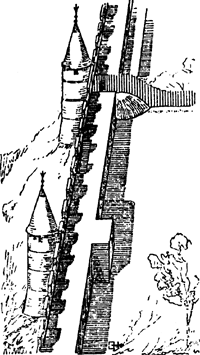 2. In ancient fortifications, an enclosing wall or rampart connecting two bastions or towers.
McGraw-Hill Dictionary of Architecture and Construction. Copyright © 2003 by McGraw-Hill Companies, Inc.