Broach
(redirected from broach holder)
Also found in:
Dictionary
,
Thesaurus
,
Medical
,
Legal
,
Financial
.
Broach,
city, India: see BharuchBharuch
, formerly Broach,
city (1991 pop. 139,029), Gujarat state, W India, on the Gulf of Khambat. A port at the mouth of the Narmada River, Bharuch ships cotton, wheat, and timber and manufactures textiles, ink, and glass.
.....

Click the link for more information.

.
Broach
A half pyramid above the corners of a square tower to provide a transition to an octagonal spire.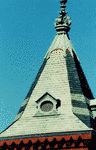 Broach
a metalcutting tool with multiple blades used on broaching machines to machine outer surfaces and through-holes. The following broaches are distinguished, based on the shape of the surface to be worked: cylinder, faceted (square, hexagonal, and so forth), spline, keyway, flat surface, and shaped surface broaches.

In broaches used for internal broaching (Figure 1, a), the teeth are arranged on a tapered cutting section; they carry out the major work of cutting the final layer of stock to size. The finishing section of the broach has from three to eight teeth. The first of these cut a very thin layer of metal and give the hole its final shape; the other teeth are spares and are used after the broach is reground. Broaches for external broaching (Figure 1, b) are manufactured in the shape of a rectangular bar and have cutting and finishing sections.
In addition to cutting broaches, there are burnishing broaches, which do not cut, but rather smooth and flatten metal. The flattened layer produced by such broaches has high resistance to wear. The teeth of burnishing broaches do not have cutting angles; they are sometimes positioned on the finishing section of the broach.
broach
[

brōch

]

(mechanical engineering)

A multiple-tooth, barlike cutting tool; the teeth are shaped to give a desired surface or contour, and cutting results from each tooth projecting farther than the preceding one.
broach
1. In quarrying, to free stone blocks from the ledge by cutting out the webbing between holes drilled close together in a row.
2. To finish a stone surface with broad diagonal parallel grooves cut by a pointed chisel.
3. A half pyramid above the corners of a square tower to provide a transition to an octagonal spire.
4. A spire sometimes springing from a tower without an intermediate parapet.
5. Any pointed ornamental structure.
broach
1. a long tapered toothed cutting tool for enlarging holes
2. a roof covering the corner triangle on the top of a square tower having an octagonal spire
3. a pin, forming part of some types of lock, that registers in the hollow bore of a key
4. a tool used for tapping casks