broached spire
broached spire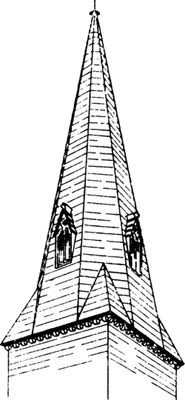 Same as
broach
, 1.
McGraw-Hill Dictionary of Architecture and Construction. Copyright © 2003 by McGraw-Hill Companies, Inc.
References in periodicals archive
?
The church has a splendid
broached spire
that is a landmark for miles around.
Austrey, in Warwickshire, is a gem, especially the pretty corner by the church with a graceful
broached spire
, the inn capped by dipping thatch and the restored 15th-century cross.