STEP
(redirected from broke step)
Also found in:
Dictionary
,
Thesaurus
,
Medical
,
Idioms
.
step
1. the act of motion brought about by raising the foot and setting it down again in coordination with the transference of the weight of the body
2. a sequence of foot movements that make up a particular dance or part of a dance
3. any of several paces or rhythmic movements in marching, dancing, etc.
4. a flight of stairs, esp out of doors
5. Music a melodic interval of a second
6. a strong block or frame bolted onto the keel of a vessel and fitted to receive the base of a mast
---
Step
a. a set of aerobic exercises designed to improve the cardiovascular system, which consists of stepping on and off a special box of adjustable height
b. (as modifier): Step aerobics
STEP
Abbrev. for Solar/Terrestrial Energy Programme.
Step
A stair unit that consists of one tread, the horizontal upper surface, and one riser, the vertical face.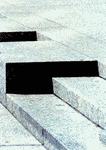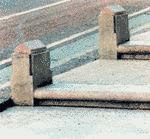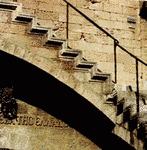 bull-nosed step
A step, usually the lowest in a flight, having one or both ends rounded to a semicircle and projecting beyond the face of the stair string. The projection extends beyond and around the newel post.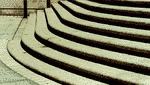 cantilever step
A step built into the wall at one end, but supported at the other end only by the steps below.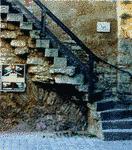 curtail step
A step, usually the lowest in the flight, of which one or both ends are rounded into a spiral or scroll shape which projects beyond the newel.
riser
The vertical face of a stair step.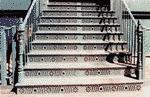 tread
The horizontal upper surface of a step; includes the rounded edge or nosing which extends over the riser.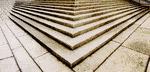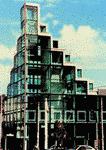 Step
a break on the bottom of a high-speed boat; when the boat is in motion, the step creates a lifting force that causes the boat to rise and glide over the water's surface. When a boat is hydroplaning over calm water, that is, when it has risen onto its step, less of its bottom is in contact with the water and, as a result, the water offers less resistance to the vessel's motion. There may be one or more steps on the bottom of a hydroplane, cutter, scooter, or the float of a seaplane. The shape of the step (flat, flat-keeled) determines the vessel's seaworthiness and speed.
step
[

step

]

(computer science)

A single computer instruction or operation.

(engineering)

A small offset on a piece of core or in a drill hole resulting from a sudden sidewise deviation of the bit as it enters a hard, tilted stratum or rock underlying a softer rock.

(geology)

A hitch or dislocation of the strata.

(mining engineering)

The portion of a longwall face at right angles to the line of the face formed when a place is worked in front of or behind an adjoining place.

(organic chemistry)
step
A stair unit which consists of one tread and one riser.