bronze
(redirected from bronzely)
Also found in:
Dictionary
,
Thesaurus
,
Medical
.
bronze,
in art: see bronze sculpturebronze sculpture.
Bronze is ideal for casting art works; it flows into all crevices of a mold, thus perfectly reproducing every detail of the most delicately modeled sculpture. It is malleable beneath the graver's tool and admirable for repoussé work.
.....

Click the link for more information.

.
---
bronze,
in metallurgy, alloy of copper, tin, zinc, phosphorus, and sometimes small amounts of other elements. Bronzes are harder than brassesbrass,
alloy having copper (55%–90%) and zinc (10%–45%) as its essential components. The properties of brass vary with the proportion of copper and zinc and with the addition of small amounts of other elements, such as aluminum, lead, tin, or nickel.
.....

Click the link for more information.

. Most are produced by melting the copper and adding the desired amounts of tin, zinc, and other substances. The properties of the alloy depend on the proportions of its components. Aluminum bronze has high strength and resists corrosion; it is used for bearings, valve seats, and machine parts. Leaded bronze, containing from 10% to 29% lead, is cast into heavy–duty bushings and bearings. Silicon bronze is used for telegraph wires and chemical containers. Phosphor bronze is used for springs. Bronze is used for coins, medals, steam fittings, and gunmetalgunmetal,
a bronze, an alloy of copper, tin, and a small amount of zinc. Although originally used extensively for making guns (from which it received its name), it has been superseded by steel, and it is now chiefly employed in casting machine parts.
.....

Click the link for more information.

and was formerly employed for cannon. Because of its particularly sonorous quality, bell metal, containing from 20% to 24% tin, is used for casting bells. Bronze has long been used in art, e.g., for castings, engravings, and forgings.

The Columbia Electronic Encyclopedia™ Copyright © 2013, Columbia University Press. Licensed from Columbia University Press. All rights reserved.

www.cc.columbia.edu/cu/cup/
bronze
An alloy of copper and tin, bronze in color, having a substantial admixture of copper to modify the properties of the principal element, such as aluminum bronze and magnesium bronze.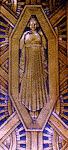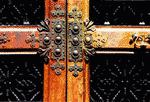 See also: Metal

Illustrated Dictionary of Architecture Copyright © 2012, 2002, 1998 by The McGraw-Hill Companies, Inc. All rights reserved
The following article is from The Great Soviet Encyclopedia (1979). It might be outdated or ideologically biased.
Bronze
a copper alloy containing various chemical elements, chiefly metals (such as tin, aluminum, beryllium, lead, cadmium, or chromium); it is correspondingly called tin bronze, aluminum bronze, beryllium bronze, and so on. Alloys of copper with zinc (brass) and nickel (cupronickel alloys) are not called bronze.
Tin bronze is the oldest alloy obtained by man (the Bronze Age). The first bronze articles were obtained in the third millennium B.C. by means of reduction smelting of copper and tin ores with charcoal. Much later, bronze began to be prepared by adding tin and other metals to the copper.
In ancient times bronze was used to make weapons and tools (arrowheads, daggers, and ax heads), ornaments, coins, and mirrors; and in the Middle Ages a great deal of bronze was used to cast bells. (Bell bronze usually contains 20 percent tin.) Until the mid-19th century, so-called gun-metal (an alloy of copper with 10 percent tin) was used to cast gun barrrels. In the 19th century bronze began to be used in mechanical engineering for bearing bushings, steam-engine slide valves, gears, and fittings. The antifriction properties and corrosion resistance of tin bronzes proved very valuable in mechanical engineering. Many kinds of machine bronzes of various composition, containing up to 10-15 percent tin, 5-10 percent zinc, and small amounts of lead and phosphorus, began to appear in industrialized countries.
Substitutes for tin bronzes, which did not contain scarce tin and were often superior to tin bronzes in many respects, began to be made in the 20th century. The most common are the aluminum bronzes, with 5-12 percent aluminum and admixtures of iron, manganese, and nickel. So-called tinless bronzes (beryllium bronzes, silicon-nickel bronzes, and others), whose strength could be greatly increased by quenching followed by artificial aging, were developed in the 1920's and 1930's. For example, after heat treatment, an alloy of copper with 2 percent beryllium becomes stronger than many steels and attains the very high yield limit of 1,280 meganewtons per sq m (128 kilograms-force per sq mm).
Various bronzes play an important part in modern mechanical engineering, aviation and rocket technology, shipbuilding, and other branches of industry.
REFERENCES
Smiriagin, A. P. Promyshlennye tsvetnye metally i splavy, 2nd ed. Moscow, 1956.
Novikov, I. I., and M. V. Zakharov. Termicheskaia obrabotka metallov i splavov. Moscow, 1962.
---
Bronze
in art, a material used since remote antiquity for articles of decorative and applied art and for sculpture (mostly, tin bronze to which silver was added when casting bells and, in medieval China, when casting vessels). Bronze powder and thin leaves of bronze (known as Dutch gold or brass leaf) are also used in bronzing articles made of wood, ivory, ferrous metals, plaster, and so on. The outstanding casting properties of bronze make possible the reproduction of the most minute details of a sculptural model; its ductility, toughness, and plasticity make it possible to create solid compositions with sharp projections and sharp separation of parts and to obtain hollow, relatively light castings without using additional supports. When bronze oxidizes it acquires a permanent coloration (a natural patina) ranging from green to dark brown and black; in addition, it is well suited for chemical toning (patination), gilding, polishing, forging, chasing, and engraving, all of which help in varying the color and surface finish of the artifacts.
From the middle of the third millennium B.C. in Mesopotamia and from the second millennium in Egypt, casting in folding, closed clay molds that were taken from a carved or sculptured model appeared after the primitive technique of casting in open molds made of stone, sand, wood, and so on. The parts of round sculpture and vessels cast in these molds were sealed and bonded together with tin. The joints were smoothed over with chasing, which was also used to make parts with relief, intensifying the contrast with the generalized, monumental surfaces, which were often polished. Sometimes the chasing was supplemented by engraving (for example, a bronze head from Nineveh, 23rd century B.C.; in the Iraqi Museum, Baghdad). Chasing appeared as relief on the thick-walled household and religious vessels used in the ancient states of Asia and Transcaucasia. In the Near East from the end of the first millennium A.D. bronze articles were decorated with finer relief and with incrustations of copper, silver, and sometimes gold (ornaments, complex inscriptions, and scenes of battle, hunting, and court entertainment). In China, where bronze was known from the second millennium B.C. and where the polishing of bronze mirrors was brought to perfection, thin-walled vessels of complex configuration were made by so-called wax casting: the mold was coated from within by an even layer of wax and filled in with clay, and then the wax was melted and replaced by bronze.
In Greece during the fifth and fourth centuries B.C. the lost-wax process was used for the casting of large bronze statues (by Polyclitus, Myron, Lysippus, and other sculptors). In this method (which to this day is the main method used for bronze monumental sculpture), the artist performs the final modeling of his sculpture on the wax placed on it, which is then covered with a heat-resistant material; the wax is eliminated during the casting. As a result, an ideally precise but unique casting is obtained.
The characteristic of bronze of giving off a rich play of highlights and shadows according to its gradations was used in a refined manner by ancient sculptors as one of the means of realizing the shimmering, lifelike quality of the human body as well as conveying a stately monumental quality to the statues. In ancient Rome, monuments (the equestrian statue of Marcus Aurelius, second century A.D.; now on the Capitoline), portrait busts, lamps, and so on were cast in large pieces. Meticulous embossing intensified the plastic clarity of composition and the tangibility and faithfulness of the articles.
Early medieval and Romanesque bronze doors of churches and cathedrals (for example, Hildesheim, 1015; the west doors of the Cathedral of St. Sophia in Novgorod, 1152-56; and the Church of San Zeno Maggiore in Verona, 11th-12th centuries), tombs (Rudolf of Swabia, c. 1080; and the cathedral in Merseburg), large vessels in the shape of animals, reliquaries, candlesticks, and so on (and, less frequently, statues of saints) were for the most part assembled composites. Because in these works the flatly resolved images and ornaments appeared on a blank, smooth background, there was a special sense of the weightiness and impenetrability of the bronze mass.
During the Renaissance, L. Ghiberti (the north doors, 1404-24, and the east doors, 1425-52, of the Florence baptistery), Donatello (an equestrian statue of Gattamelata, 1447-53, in Padua), Andrea Verrocchio (equestrian statue of Colleoni, 1479-90, in Venice), P. Vischer the Elder (shrine of St. Sebaldus, 1508-19, Church of St. Sebaldus, Nuremberg), and other sculptors again turned to the lost-wax method of casting. The piecemeal casting of a mold, introduced for this method by B. Cellini, allowed several exact castings to be made from one model; however, caulking was required to remove the traces of the mold joints. A high degree of perfection in bronze casting was reached during the 16th century in Russia (the Tsar's Cannon, by A. Chokov, 1586; weight, about 40 tons; Moscow Kremlin). The surface finishing of bronze plastic art, in which matte finishes and polished surfaces and smooth planes and richly worked relief were combined, was growing more and more complex in the 15th and 16th centuries. It attained particular variety in the 17th and 18th centuries, when bronze became an important element in the decor of palace and park ensembles (the statues and sculptural groups of F. Girardon in Versailles, B. K. Rastrelli in Leningrad, and M. I. Kozlovskii and others at Petrodvorets). The use of gilding material of various tones (especially as applied to the furniture of A. C. Boulle and in the works of Clodion), as well as patination (in the works of P. Gouthière and, from the beginning of the 19th century, P. F. Thomire), in addition to a combination of closed and open casting, made the expressive possibilities of bronze almost limitless. During the 18th century and the first third of the 19th century many important bronze monuments were executed in Russia, where the following master founders were working: I. F. and M. I. Motorin (the Tsar's Bell, 1734-35, Moscow Kremlin), E. Khailov (who, in collaboration with E. M. Falconet, performed the casting of the Bronze Horseman in 1775), V. P. Ekimov (who cast I. P. Martos's group Minin and Pozharskii, 1816, in a single piece, and also the doors of the Kazan Cathedral and a number of monuments in Leningrad), and the sculptor P. K. Klodt.
Beginning in the second third of the 19th century a precipitous decline in the production of artistic bronzes began: in order to make household articles less expensive, low-grade copper alloys (with 10-15 percent tin and zinc and as much as 3 percent lead), galvanic gilding, and mechanical processing methods (stamping, rolling, and other methods) began to be utilized. The predominant development of sculpture decreased interest in the decorative properties of bronze, and it became, for the most part, merely a material to be used in making reproductions. A new artistic comprehension of bronze was attained in the last decades of the 19th century and in the early 20th century in the creative work of the impressionists (for example, A. Rodin and P. P. Trubetskoi) and a number of sculptors of later generations (E. A. Bourdelle, C. Despiau, G. Manzu, and others). In order to intensify the emotional resonance of images, they utilized the plastic expressiveness of the bronze overflows, jagged edges, and other traces of casting, which emphasize the living quality of modeling and the traces of the sculptor's direct work on the model. In the softly modeled statues of A. Maillol the scarcely detectable play of light and shadow on the smooth mass of bronze creates the effect of an inner pulsation of life.
Bronze has been used extensively and diversely in Soviet sculpture (Peasant Woman by V. I. Mukhina, 1927; The Cobblestone Is the Weapon of the Proletariat by I. D. Shadr, 1927; a number of portrait works by S. D. Lebedeva, cast in bronze by the master craftsman V. V. Luk'ianov during the 1940's to 1960's, all in the Tret'iakov Gallery; Female Figure by A. T. Matveev, 1937, Russian Museum, Leningrad; and a considerable proportion of the monuments located in many cities of the USSR).
REFERENCES
Veiner, P. O bronze. Petrograd, 1923.
Rybakov, B. Remeslo drevnei Rusi. Moscow, 1948.
Rubtsov, N. N. V. P. Ekimov i P. K. Klodt—vydaiushchiesia mastera russkogo khudozhestvennogo lit'ia. Moscow, 1950.
Levinson, N. R., and L. N. Goncharova. Russkaia khudozhestvennaia bronza. Moscow, 1958.
Lüer, N. Technik der Bronzeplastik. Leipzig, 1902.
Schottmüller, F. Bronze: Statuetten und Geräte. Berlin, 1921.
Charbonneaux, J. Les bronzes grecs. Paris, 1958.
Dexel, T. Les bronzes chinois. Paris, 1959.
Landais, H. Les bronzes italiens de la Renaissance. Paris, 1958.
Weihrauch, H. R. Europäische Bronze-Statuetten 15-18. Jahrhundert. Braunschweig [1967].
The Great Soviet Encyclopedia, 3rd Edition (1970-1979). © 2010 The Gale Group, Inc. All rights reserved.
bronze
[

bränz

]

(metallurgy)

An alloy of copper and tin in varying proportions; other elements such as zinc, nickel, and lead may be added.

McGraw-Hill Dictionary of Scientific & Technical Terms, 6E, Copyright © 2003 by The McGraw-Hill Companies, Inc.
bronze
1. An alloy of copper and tin.
2. Any alloy, bronze in color, having a substantial admixture of copper to modify the properties of the principal element, as aluminum bronze, magnesium bronze, etc.
McGraw-Hill Dictionary of Architecture and Construction. Copyright © 2003 by McGraw-Hill Companies, Inc.
bronze
1.
a. any hard water-resistant alloy consisting of copper and smaller proportions of tin and sometimes zinc and lead
b. any similar copper alloy containing other elements in place of tin, such as aluminium bronze, beryllium bronze, etc
2. a yellowish-brown colour or pigment
Collins Discovery Encyclopedia, 1st edition © HarperCollins Publishers 2005