brush
(redirected from brushlike)
Also found in:
Dictionary
,
Thesaurus
,
Medical
.
brush
1
1. a device made of bristles, hairs, wires, etc., set into a firm back or handle: used to apply paint, clean or polish surfaces, groom the hair, etc
2. the bushy tail of a fox, often kept as a trophy after a hunt, or of certain breeds of dog
3. an electric conductor, esp one made of carbon, that conveys current between stationary and rotating parts of a generator, motor, etc
4. a dark brush-shaped region observed when a biaxial crystal is viewed through a microscope, caused by interference between beams of polarized light
---
brush
2
1. a thick growth of shrubs and small trees; scrub
2. land covered with scrub
3. broken or cut branches or twigs; brushwood
4. wooded sparsely populated country; backwoods
Collins Discovery Encyclopedia, 1st edition © HarperCollins Publishers 2005
The following article is from The Great Soviet Encyclopedia (1979). It might be outdated or ideologically biased.
Brush
in painting, drawing, and calligraphy, the principal instrument for applying color to canvas, paper, or other types of support. Brushes are made of animal hair or fur from which the fat has been removed. The hair or fur is then tempered. Stiff bristle brushes (rounded or flat) are used in oil painting. Brushes with longer bristles are used in distemper and fresco painting. Rounded and pointed soft brushes are used in watercolor and tempera painting, as well as in drawing. Brushes made from the fur of the Siberian weasel, which are soft and supple, can be used in any medium of painting.
REFERENCE
Kraski, inventar' i materialy dlia khudozhnikov. Moscow, 1959. (Catalog.)
The Great Soviet Encyclopedia, 3rd Edition (1970-1979). © 2010 The Gale Group, Inc. All rights reserved.
brush
[

brəsh

]

(ecology)

(electricity)

A conductive metal or carbon block used to make sliding electrical contact with a moving part.

McGraw-Hill Dictionary of Scientific & Technical Terms, 6E, Copyright © 2003 by The McGraw-Hill Companies, Inc.
brush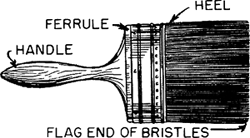 1. An implement made of natural or artificial bristles which are attached to a handle or back; used for cleaning or painting a surface.
2. An electric conductor (such as a strip of copper or a carbon rod) which provides electrical contact between a rotating and stationary element in a current motor or generator.
McGraw-Hill Dictionary of Architecture and Construction. Copyright © 2003 by McGraw-Hill Companies, Inc.