brutalism
Also found in:
Dictionary
.
brutalism
brutalism
or
new brutalism,
architectural style of the late 1950s and 60s that arose in reaction to the lightness, polish, and use of glass and steel that had come to characterize the orthodox
International style
; the term is derived from the French
béton brut
[raw concrete]. Brutalism aimed at honesty in the use of materials, e.g., unfinished concrete and brick, and a certain moral seriousness, and arose in part out of the monumental structures designed by
Le Corbusier
late in his career. Often employed in government, university, and other institutional buildings, it is noted for having produced such monolithic, imposing, and fortresslike structures as Paul
Rudolph
's Yale Art and Architecture Building (1963), Marcel
Breuer
's
Whitney Museum
(1966, now Met Breuer), Boston's City Hall (1968), London's Trellick Tower (1966–72, designed by Erno Goldfinger), and Louis
Kahn
's government complex (1962–83) in Dhaka, Bangladesh. Brutalism fell from favor in the 1970s but has experienced some renewed interest in the 21st cent.
Bibliography
See V. McLeod, ed., Atlas of Brutalist Architecture (2018); studies by A. Clement (2011), K. May and J. van den Hout (2013), D. Bradley (2014), E. Harwood (2015), M. Pasnik and C. Grimley (2015), C. Beanland (2016), B. Calder (2016), P. Chadwick (2016), S. Henley (2017), and B. Highmore (2017).
The Columbia Electronic Encyclopedia™ Copyright © 2022, Columbia University Press. Licensed from Columbia University Press. All rights reserved.
Brutalism
(1945–1960)

An uncompromisingly modern style which was expressed in large scale using raw and exposed materials emphasizing stark forms. It was distinguished by its weighty, textured surfaces and massiveness; created mainly by large areas of patterned concrete. Windows consist of tiny openings, and the combination of voids and solids gave walls an egg-crate appearance. Mechanical systems are left exposed on the interior of the bare structure.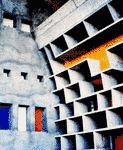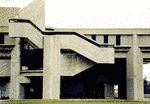 Illustrated Dictionary of Architecture Copyright © 2012, 2002, 1998 by The McGraw-Hill Companies, Inc. All rights reserved
The following article is from The Great Soviet Encyclopedia (1979). It might be outdated or ideologically biased.
Brutalism
(also new brutalism), a trend in modern architecture. It originated with the architects Alison and Peter Smithson (husband and wife) in the middle of the 1950's in Great Britain and spread to the countries of Western Europe, the USA, and Japan. It has no clearly defined theory. The brutalists strive to create architecture in which aesthetic qualities are determined by crude, obviously heavy forms and exposed structures and engineering systems of buildings. Examples include the school at Hunstanton, 1949-54, and the building housing the editorial offices of the London Economist, 1964; both by A. and P. Smithson; the Marchiondi Institute in Milan, 1959, by V. Vigano; and the Halen Siedlung near Bern, 1961.
REFERENCE
Tasalov, V. Prometei ili Orfei. Moscow, 1967. Pages 227-30.
The Great Soviet Encyclopedia, 3rd Edition (1970-1979). © 2010 The Gale Group, Inc. All rights reserved.
Brutalism, New Brutalism
A style of modern architecture, primarily in the 1960s, emphasizing heavy, monumental, stark concrete forms and raw surfaces; may show patterns of the rough wood formwork used in casting the concrete (
béton brut
). Buildings in this style are often suggestive of massive sculptures.
McGraw-Hill Dictionary of Architecture and Construction. Copyright © 2003 by McGraw-Hill Companies, Inc.
brutalism
an austere style of architecture characterized by emphasis on such structural materials as undressed concrete and unconcealed service pipes
http://students.open.ac.uk/open2net/modernity/4_15.htm
www.skyscrapers.com/re/en/ab/ds/pd/bu/ca/sy/mo/br
Collins Discovery Encyclopedia, 1st edition © HarperCollins Publishers 2005