bt
Also found in:
Dictionary
,
Thesaurus
,
Medical
,
Financial
,
Acronyms
,
Idioms
,
Wikipedia
.
BT
(engineering)
McGraw-Hill Dictionary of Scientific & Technical Terms, 6E, Copyright © 2003 by The McGraw-Hill Companies, Inc.
bt
(networking)

This article is provided by FOLDOC - Free Online Dictionary of Computing (foldoc.org)
BitTorrent
A popular protocol for sharing large files over the Internet, developed by Bram Cohen and released in 2001. In addition to Cohen's software, other BitTorrent client programs are available for all major platforms. There is no centralized server. Each downloading user becomes a source for another user who wants the same file. The BitTorrent client balances the load on the computer, because download speeds are faster than upload speeds.

Widely used for transferring pirated movies and software, BitTorrent, along with other file sharing systems, accounted for more than half of Internet traffic after the turn of the century. Since then, however, movie streaming from Netflix, YouTube and other legal sources became extremely popular, and BitTorrent traffic dropped dramatically.

Torrents
BitTorrent breaks large files into smaller ones. A "torrent" is a file of meta-data that describes the files and the servers that keep track of the BitTorrent peers that have the parts of the file. In practice, a file itself is also called a torrent.

Users Share the Load (Leechers and Seeds)
A "seed" is a BitTorrent client that has the file. A "leecher" is a BitTorrent client in the process of downloading, and a leecher thus becomes a seed for someone else. However, a "leech" refers to people who exit BitTorrent after downloading, thus preventing seeding to others. For more information, visit www.bittorrent.com.

File sharing systems have been architected in different ways as outlined in the following illustrations. See peer-to-peer network, Napster and KaZaA.









---
Bluetooth
The standard wireless network for short-range transmission of digital audio and data. Using radio waves, Bluetooth transmits through walls and other non-metal barriers. Although the term is synonymous with cellphone headsets and hands-free telephony in vehicles, Bluetooth is also used for wireless speakers, keyboards, mice, game controllers, smartwatches and more (for the different categories, see Bluetooth profiles). Constantly enhanced, see Bluetooth versions for version details.

Spread Spectrum Frequency Hopping
Bluetooth is a wireless personal area network (WPAN) that continuously changes its frequency. It randomly changes to one of 79 channels 1,600 times per second in the same unlicensed 2.4 GHz band as Wi-Fi. See spread spectrum.

Scandinavian Origins
Named after ancient King Harald Blatan of Denmark, Sweden-based Ericsson developed Bluetooth and co-founded the governing body in 1998 (www.bluetooth.com). Bluetooth is also an IEEE personal area network (PAN) standard (see 802.15). Supporting point-to-point and multipoint architectures (see piconet), there are billions of Bluetooth devices in use. See Bluetooth glossary.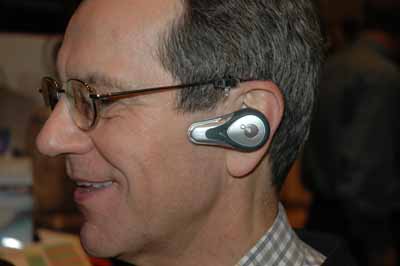 Bluetooth = Headset
Because they are were so ubiquitous, "Bluetooth" initially became synonymous with "headset." However, Bluetooth connects many other devices.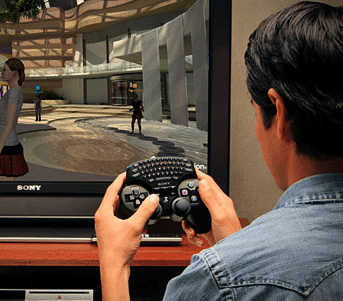 Game Controllers
This "gamepad" from Sony uses Bluetooth to communicate with the PlayStation3 game console. See video game controller. (Image courtesy of Sony Corporation.)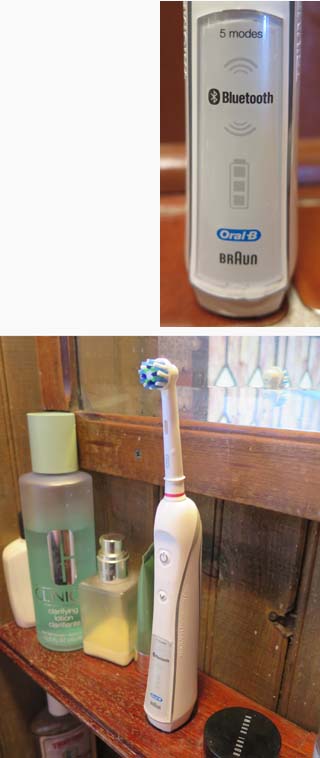 Blue Teeth!!
This Oral-B toothbrush sends elapsed time to the app in the user's smartphone via Bluetooth to monitor brushing time and history.

Bluetooth Logos
The stylized "B" displayed on a modern smartphone (left) or earlier cellphone (right) means that Bluetooth has been turned on in the device.
---
British Telecom
The earlier name of BT Group plc, which is the major telephone and Internet provider in England and Northern Ireland with operations around the world. It used to be a division of the British Post Office, but was privatized in 1984 under Margaret Thatcher's administration.

Copyright © 1981-2019 by The Computer Language Company Inc. All Rights reserved. THIS DEFINITION IS FOR PERSONAL USE ONLY. All other reproduction is strictly prohibited without permission from the publisher.