bubble memory
Also found in:
Dictionary
,
Thesaurus
,
Wikipedia
.
bubble memory
[

′bəb·əl ¦mem·rē

]

(computer science)

A computer memory in which the presence or absence of a magnetic bubble in a localized region of a thin magnetic film designates a 1 or 0; storage capacity can be well over 1 megabit per cubic inch. Also known as magnetic bubble memory.

McGraw-Hill Dictionary of Scientific & Technical Terms, 6E, Copyright © 2003 by The McGraw-Hill Companies, Inc.
bubble memory
A storage device built using materials such as gadolinium gallium garnet which are can be magnetised easily in only one direction. A film of these materials can be created so that it is magnetisable in an up-down direction. The magnetic fields tend to join together, some with the north pole facing up, some with the south.
When a veritcal magnetic field is imposed on this, the areas in opposite alignment to the field shrink to circles, or 'bubbles'. A bubble can be formed by reversing the field in a small spot, and can be destroyed by increasing the field.
Bubble memory is a kind of
non-volatile storage
but
EEPROM
,
Flash Erasable Programmable Read-Only Memory
and ferroelectric technologies, which are also non-volatile, are faster.
["Great Microprocessors of the Past and Present", V 4.0.0, John Bayko <bayko@hercules.cs.uregina.ca>, Appendix C]
This article is provided by FOLDOC - Free Online Dictionary of Computing (foldoc.org)
bubble memory
An early non-volatile magnetic storage device. Developed by Bell Labs researcher Andrew Bobeck in the 1970s, bubble memory was about as fast as a slow hard disk but it held its content without power. As hard disks greatly improved in the 1980s, bubble memory was abandoned even though it was well suited for rugged applications.

Only a couple of square inches in size, a bubble memory module contained a thin film magnetic recording layer, and globular-shaped bubbles (bits) were electromagnetically generated in circular strings inside this layer. In order to read or write the bubbles, they were rotated past the equivalent of a read/write head.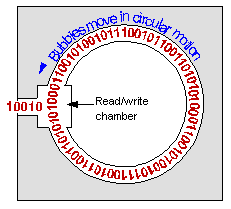 Bubble Memory
Bubble memory is conceptually a stationary disk with spinning bits.
Copyright © 1981-2019 by The Computer Language Company Inc. All Rights reserved. THIS DEFINITION IS FOR PERSONAL USE ONLY. All other reproduction is strictly prohibited without permission from the publisher.