bugle
(redirected from bugle-horn)
Also found in:
Dictionary
,
Thesaurus
.
bugle
bugle, brass wind musical instrument consisting of a conical tube coiled once upon itself, capable of producing five or six harmonics. It is usually in G or B flat. Its principal use is for military and naval bugle calls, such as taps and reveille, and, in earlier times, for hunting calls. In the early 19th cent., keyed bugles were made in order to obtain a complete scale.
The Columbia Electronic Encyclopedia™ Copyright © 2022, Columbia University Press. Licensed from Columbia University Press. All rights reserved.
reducer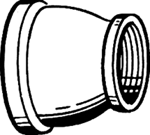 1. A thinner or solvent; used to lower the viscosity of a paint, varnish, or lacquer.
McGraw-Hill Dictionary of Architecture and Construction. Copyright © 2003 by McGraw-Hill Companies, Inc.
bugle
1
Music a brass instrument similar to the cornet but usually without valves: used for military fanfares, signal calls, etc.
---
bugle
2. any of several Eurasian plants of the genus Ajuga, esp A. reptans, having small blue or white flowers: family Lamiaceae (labiates)
---
bugle
3
a tubular glass or plastic bead sewn onto clothes for decoration
Collins Discovery Encyclopedia, 1st edition © HarperCollins Publishers 2005