built-up roofing
Also found in:
Acronyms
.
built-up roofing
[

′bilt'əp ′rüf·iŋ

]

(materials)

A seamless piece of flexible, waterproofed roofing material consisting of plies of felt mopped with asphalt or pitch.
built-up roofing
Flat roof covered with multiple layers of roofing felt, secured with layers of hot tar, and topped with a layer of crushed stone. See also:
Roof
built-up roofing, composition roofing, felt-and-gravel roofing, gravel roofing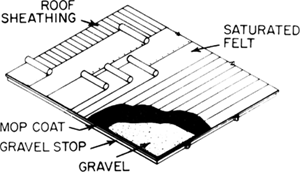 A continuous roof covering made up of laminations or plies of saturated or coated roofing felts, alternated with layers of asphalt or coal-tar pitch and surfaced with a layer of gravel or slag in a heavy coat of asphalt or coal-tar pitch or finished with a
cap sheet
; generally used on flat or low-pitched roofs. Also see
tar-and-gravel roofing
.