burner
Also found in:
Dictionary
,
Thesaurus
,
Medical
,
Financial
,
Idioms
,
Wikipedia
.
burner
[

′bər·nər

]

(chemical engineering)

A furnace where sulfur or sulfide ore are burned to produce sulfur dioxide and other gases.

(engineering)

The part of a fluid-burning device at which the flame is produced.

Any burning device used to soften old paint to aid in its removal.

A worker who operates a kiln which burns brick or tile.

A worker who alters the properties of a mineral substance by burning.

A worker who uses a flame-cutting torch to cut metals.

(mechanical engineering)

A unit of a steam boiler which mixes and directs the flow of fuel and air so as to ensure rapid ignition and complete combustion.
burner
That part of a furnace, boiler, etc., where the flame is produced.
burner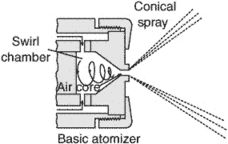 A component of a jet engine combustion system. Its purpose is to introduce fuel into the combustion chamber in a state in which it will burn efficiently. The two types of burners are atomizer and vaporizer.