hatchet
(redirected from burying the hatchet)
Also found in:
Dictionary
,
Thesaurus
,
Medical
,
Idioms
.
hatchet:
see tomahawktomahawk
[from an Algonquian dialect of Virginia], hatchet generally used by Native North Americans as a hand weapon and as a missile. The earliest tomahawks were made of stone, with one edge or two edges sharpened (sometimes the stone was globe shaped).
.....

Click the link for more information.

.
hatchet
[

′hach·ət

]

(design engineering)

A small ax with a short handle and a hammerhead in addition to the cutting edge.
hatchet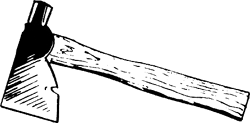 A combination chopping and driving tool which has a wooden handle and a steel head, with a hammer face and a blade which is notched for pulling nails.
hatchet
a short axe used for chopping wood, etc.