camcorder
Also found in:
Dictionary
,
Thesaurus
,
Medical
,
Legal
,
Acronyms
,
Wikipedia
.
videocassette recorder
videocassette recorder (VCR), device that can record television programs or the images from a video camera on magnetic tape (see tape recorder); it can also play prerecorded tapes. A VCR converts the separate audio and video portions of a television or video camera signal to magnetic flux variations to magnetize the tape. The video recording heads move in a direction almost perpendicular to the tape movement, resulting in tracks that run diagonally across the tape width and increasing tape capacity. A camcorder combines a video camera and VCR in a single handheld machine.
The first commercially successful VCR, which used a Betamax format, was introduced in 1975. A competitive format, VHS (Video Home System), was introduced in the same year and became the dominant system. Although both systems use 0.5-in.- (13-mm-) wide tape, they are mutually incompatible; a tape recorded on one system cannot be played on the other. A third system using 0.3-in.-wide (8-mm) tape was introduced in 1984; it is used primarily in camcorders. In 1994 electronics companies agreed on international standards for a digital VCR. The introduction of the DVD (1996) and the recordable DVD (see digital versatile disc) led to a steady shift away from the VCR. By 2003 rentals of DVDs surpassed VHS tapes, and by 2016 manufacturers had stopped producing both Betamax and VHS machines.
The Columbia Electronic Encyclopedia™ Copyright © 2022, Columbia University Press. Licensed from Columbia University Press. All rights reserved.
camcorder
[

′kam'cȯrd·ər

]

(electronics)

A one-piece hand-held television camera with built-in videocassette recorder, microphone, and battery pack, utilizing a charge-coupled device array as its light-sensitive element.

McGraw-Hill Dictionary of Scientific & Technical Terms, 6E, Copyright © 2003 by The McGraw-Hill Companies, Inc.
camcorder
(CAMera reCORDER) A combination video camera, recorder and player in one unit. Prior to camcorders, the camera and magnetic tape recorder were separate devices cabled together. In 1983, Sony introduced the Betamovie, the first camcorder, which used half-inch analog Betamax videotape cassettes. However, the cassette had to be removed and inserted into a separate videotape player for viewing. Subsequently, camcorders were designed to play as well as record.

Today, tape cassettes are history, and all video cameras are digital camcorders that record onto flash memory cards, hard drives or SSDs. In addition, every modern smartphone is also a camcorder. See SD formats, HD formats, DTV and digital camera.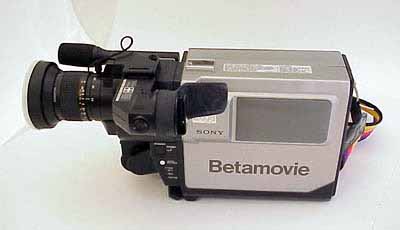 The First Camcorder
In 1983, Sony's Betamovie was the first combination camera and recorder in one unit. Although camcorders have gotten quite small, broadcast-quality cameras used by major media are still rather large and heavy. (Image courtesy of DrT, www.drt3d.com)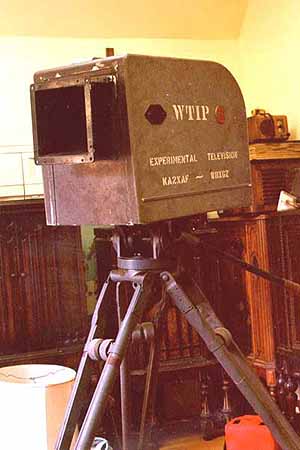 Cam, But No Corder
In 1939, this RCA video camera used the all-electronic Iconoscope picture tube but did not even have a viewfinder. That came later. Videotape recording would not come until 1956. (Image courtesy of Early Television Foundation, www.earlytelevision.org)
Copyright © 1981-2019 by The Computer Language Company Inc. All Rights reserved. THIS DEFINITION IS FOR PERSONAL USE ONLY. All other reproduction is strictly prohibited without permission from the publisher.