campanile
(redirected from campanili)
Also found in:
Dictionary
,
Thesaurus
.
campanile
campanile
(kămpənēˈlē, Ital. kämpänēˈlā)
, Italian form of bell tower, constructed chiefly during the Middle Ages. Built in connection with a church or a town hall, it served as a belfry and watch tower and often functioned as a civic or commemorative monument. The campanile generally stands as a detached unit. At the top is the bell platform, where the main architectural emphasis, generally a group of arched openings, is concentrated. Originating in the 6th cent., the campaniles were the earliest church towers in Europe and were generally circular in shape; examples of this type remain at Ravenna. Beginning with the 8th cent., the square plan became most common, being constructed in all parts of Italy. The Lombardy section produced the richest development of the campanile. Brick is the material most used, often combined with stone for the cornices and string courses, the latter surrounding the tower at each story level in the Roman examples. The celebrated campanile of Florence, known as Giotto's campanile (1334), is entirely faced in marble and ornamented with sculptures. Also of marble is the leaning tower at
Pisa
.
The Columbia Electronic Encyclopedia™ Copyright © 2022, Columbia University Press. Licensed from Columbia University Press. All rights reserved.
Campanile
A bell tower detached from the main body of a church.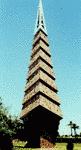 Illustrated Dictionary of Architecture Copyright © 2012, 2002, 1998 by The McGraw-Hill Companies, Inc. All rights reserved
The following article is from The Great Soviet Encyclopedia (1979). It might be outdated or ideologically biased.
Campanile
the bell tower in medieval and Renaissance Italian architecture. The tower was four-sided or circular and, as a rule, was detached from the church. The prototype of the campanile was the city watchtower. The structure appeared well-proportioned and light as a result of an increase in the number or dimensions of the openings near the top. The lower floors, for the most part, did not have any apertures. An example of the campanile is the bell tower (known as Giotto's Tower) of the Cathedral of Florence. The construction of this campanile was begun by Giotto in 1334 and was continued by Andrea Pisano from 1337 to 1343. It was completed by F. Talenti around 1359.
The Great Soviet Encyclopedia, 3rd Edition (1970-1979). © 2010 The Gale Group, Inc. All rights reserved.
campanile

A bell tower, usually freestanding.
McGraw-Hill Dictionary of Architecture and Construction. Copyright © 2003 by McGraw-Hill Companies, Inc.
campanile
(esp in Italy) a bell tower, not usually attached to another building
Collins Discovery Encyclopedia, 1st edition © HarperCollins Publishers 2005