canine
(redirected from canine eminence)
Also found in:
Dictionary
,
Thesaurus
,
Medical
.
canine
1. of, relating to, or belonging to the Canidae, a family of mammals, including dogs, jackals, wolves, and foxes, typically having a bushy tail, erect ears, and a long muzzle: order Carnivora (carnivores)
2. of or relating to any of the four teeth, two in each jaw, situated between the incisors and the premolars
3. a canine tooth
Collins Discovery Encyclopedia, 1st edition © HarperCollins Publishers 2005
canine
Any member of the dog family, including wolves and foxes.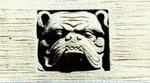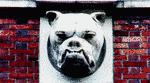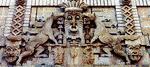 See also: Ornament

Illustrated Dictionary of Architecture Copyright © 2012, 2002, 1998 by The McGraw-Hill Companies, Inc. All rights reserved
canine
[

′kā'nīn

]

(anatomy)

A conical tooth, such as one located between the lateral incisor and first premolar in humans and many other mammals. Also known as cuspid.

(vertebrate zoology)

Pertaining or related to dogs or to the family Canidae.

McGraw-Hill Dictionary of Scientific & Technical Terms, 6E, Copyright © 2003 by The McGraw-Hill Companies, Inc.