canted wall
cant wall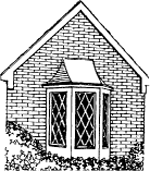 A wall canted on plan. cant window,
cant-bay window
A bay window erected on a plan of canted outline; the sides of the window are at an angle with respect to the wall; also see
angled bay window
.
McGraw-Hill Dictionary of Architecture and Construction. Copyright © 2003 by McGraw-Hill Companies, Inc.