iPod car adapter
(redirected from car iPod adapter)
iPod car adapter
A device that enables an iPod to work through an automobile's audio system. A car's auxiliary jack enables iPods and all other mobile devices to connect to the car stereo via their headset jack (analog out). However, the best type of adapter makes the iPod (or iPhone or iPad) part of the car's entertainment system by connecting directly to the device's 30-pin or Lightning port. The buttons on the dashboard and steering wheel are then used for control, and song data can be viewed on the car's built-in screen. See Apple dock, Lightning connector and MP3 car adapter.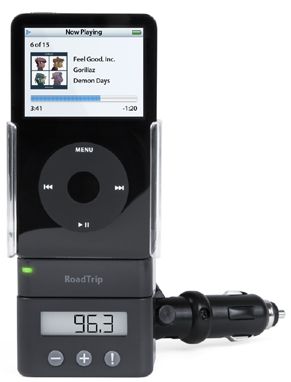 Pretend FM Radio Station
This Griffin RoadTrip FM for the 30-pin port (and the iTrip Auto for the Lightning port) plug into the car's DC outlet to charge the iDevice and convert its output to a channel picked up by the car's FM radio. (Image courtesy of Griffin Technology, www.griffintechnology.com)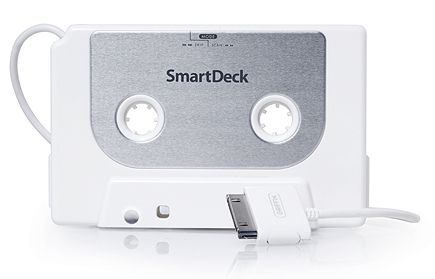 Pretend Tape Cassette
Containing no tape inside, the SmartDeck adapter received the digital music from the iPod, converted it to analog and directed magnetic signals to the tape head. The SmartDeck converted the car's tape player button depressions into iPod commands. (Image courtesy of Griffin Technology, www.griffintechnology.com)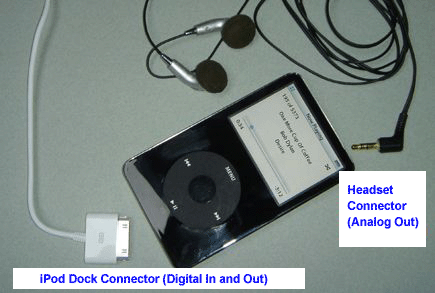 Analog and Digital
Like all music players, the iPod has analog output for a headset, which can be input to any amplifier and speakers, whether in the car or not. The iPod's 30-pin dock connector or Lightning port at the bottom of the unit provides a digital connection to an Apple car adapter as well as to a computer via USB (see Apple dock connector and Lightning connector).
Copyright © 1981-2019 by The Computer Language Company Inc. All Rights reserved. THIS DEFINITION IS FOR PERSONAL USE ONLY. All other reproduction is strictly prohibited without permission from the publisher.