Caravansary
(redirected from caravanserais)
Also found in:
Dictionary
,
Thesaurus
.
The following article is from The Great Soviet Encyclopedia (1979). It might be outdated or ideologically biased.
Caravansary
an inn and trading post for caravans along the roads in the cities of Southwest Asia, Middle Asia, and Transcaucasia. Caravansaries, which have been known since antiquity, were widespread during the ninth through 18th centuries as cities grew and the caravan trade intensified.
Two types are most common: the hall caravansary and thecaravansary with an inner court. The hall caravansaries, seen inArmenia, are retangular buildings divided into naves. The mid-dle nave is designed for men and goods; the animals are kept inthe side naves. The other type has small buildings of one or a fewstories, where travelers stay with their merchandise; the build-ings open on an enclosed court, where the animals are kept.Roadside caravansaries were fortified with protective walls orelse were attached to inns or fortresses (rabats and khans). Thedevelopment of railroads and other modern type of transporthave brought about a decline in the importance of caravansarieson transit roads.
The Great Soviet Encyclopedia, 3rd Edition (1970-1979). © 2010 The Gale Group, Inc. All rights reserved.
caravansary, caravanserai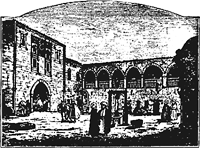 1.In the middle east, a building or inn for the overnight lodging of travelers by caravan; usually enclosed by a solid wall and entered through a large gate.
2. By extension, any large inn or hotel.
McGraw-Hill Dictionary of Architecture and Construction. Copyright © 2003 by McGraw-Hill Companies, Inc.