card
(redirected from carded)
Also found in:
Dictionary
,
Thesaurus
,
Idioms
.
card
1
1.
b. (as modifier): a card game
c. (in combination): cardsharp
3. Horse racing a daily programme of all the races at a meeting, listing the runners, riders, weights to be carried, distances to be run, and conditions of each race
---
card
2
(formerly) a machine or comblike tool for carding fabrics or for raising the nap on cloth
Collins Discovery Encyclopedia, 1st edition © HarperCollins Publishers 2005
card
[

kärd

]

(electronics)

A printed circuit board or other arrangement of miniaturized components that can be plugged into a computer or peripheral device.

McGraw-Hill Dictionary of Scientific & Technical Terms, 6E, Copyright © 2003 by The McGraw-Hill Companies, Inc.
card
(1)

A circuit board.
card
(2)
card
(hypertext)

This article is provided by FOLDOC - Free Online Dictionary of Computing (foldoc.org)
expansion card
A printed circuit board that plugs into a slot on the motherboard and enables a computer to control a peripheral device. Also called an "interface card," "adapter" or "controller," all the printed circuit boards that plug into a computer's bus are technically expansion cards, because they "expand" the computer's capability. PCI and PCI Express are common expansion cards in use today (see PCI and PCI Express).

Cards Used to Be the Norm
In earlier PCs, controllers for drives, input/output ports, display, network and sound all resided on separate plug-in cards. Subsequently, peripheral control was built into the chipset (see PC chipset); however, users still have options to install their own controllers. For example, in order to enhance video game performance, a faster graphics card is plugged into a PCI Express slot, and the internal display circuit on the motherboard is disabled. See motherboard and expansion port. See also bus extender.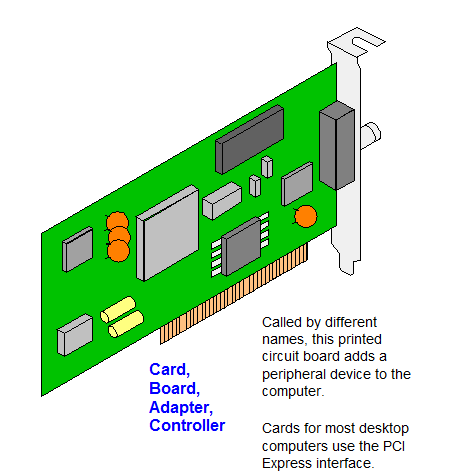 Card Types
Today, PCI Express (PCIe) is the card interface in common use. These are the expansion cards in desktop computers since the IBM PC AT in 1984. For a brief description of each, see PC data buses. See PCI Express.

Card Types
Today, PCI Express (PCIe) is the card interface in common use. These are the expansion cards in desktop computers since the IBM PC AT in 1984. For a brief description of each, see PC data buses. See PCI Express.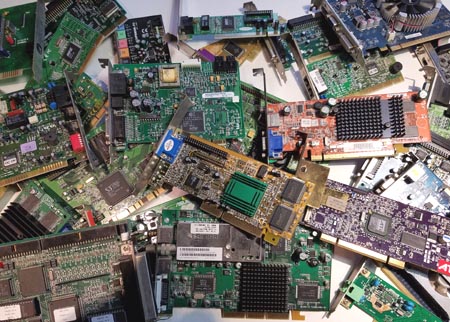 Cards Galore
Cards come in many shapes and sizes, but they all conform to the specific pin format on the motherboard sockets. These are graphics cards and Ethernet adapters with some sound boards thrown in for good measure.
---
HyperCard
An early Mac application development system from Apple that was one of the first visual tools for building hyperlinked applications. "Stacks" of "cards" were built that held text, graphics, sound and video with links between them. Complex routines could be embedded in the cards using the HyperTalk programming language.

The HyperCard program had to be resident in the computer to run the stack (the program). Although HyperCard compilers were available from third parties, a runtime engine was eventually included in the stack so that HyperCard did not have to be installed on the target machine. HyperCard came out in 1987, and although it was used to create myriad applications, and many programmers loved it, Apple stopped enhancing it after the turn of the century and stopped selling it in 2004. See hypertext and LiveCode.
---
magnetic stripe
A small length of magnetic tape adhered to credit cards, badges, permits, passes and tokens. The tape is read by magnetic stripe readers incorporated into ATMs, identification readers and payment terminals. Due to the daily, heavy wear these cards receive, the digital recording on the stripe is in a very low-density format and often duplicated several times in case part of the stripe becomes damaged. See EMV and smart card.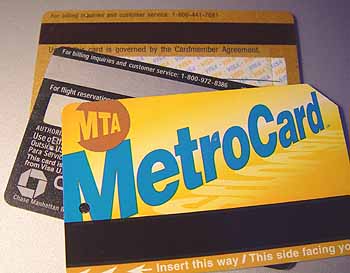 Magnetic Stripes
The uses of magnetic stripes are a testimony to their durability. Adhered to credit cards and a variety of other plastic or paper cards, the low-density tape recording is designed to withstand abrasion from daily use.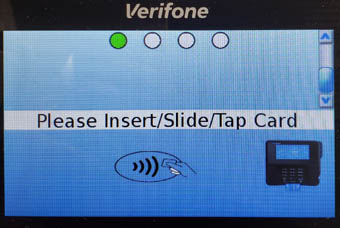 Old and New Together
Cards with magnetic stripes have been around since the late 1960s, and they co-exist with chip cards and wireless payment methods today. See smart card and NFC.
---
printed circuit board
A rigid, flat board that holds chips and other electronic components. The printed circuit board (PCB) is made of layers, from two to a dozen or more, that interconnect components via copper pathways. The main board in a computer is called the "system board" or "motherboard," while smaller ones that plug into slots on the main board are called "boards" or "cards." See motherboard, expansion card and flexible circuit.

Etched Circuits
The "printed" circuit is an etched circuit. A copper foil is placed over a fiberglass or plastic base of each layer and covered with a photoresist. Light is beamed through a negative image of the circuit paths onto the photoresist, hardening the areas that will remain after etching. When passed through an acid bath, the unhardened areas are washed away, and the finished layers are then glued together. The etching process is also used to create integrated circuits (chips).

Starting in the 1940s
Printed circuit boards (PCBs) were first used in the 1940s to connect discrete components together. By the 1960s, they were widely used in all electronic systems, and as integrated circuits emerged in the 1970s, chips were increasingly mounted on the boards. Today, PCBs hold a few discrete elements but mostly chips, and each chip contains from thousands to billions of transistors (see chip). See surface mount, via and discrete component.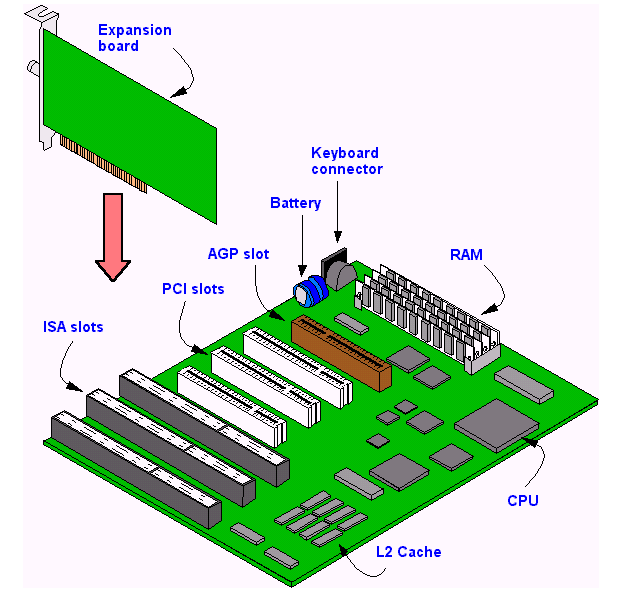 Motherboard and Expansion Cards
This Baby AT board is an example of an early PC motherboard. It accepted both ISA and PCI cards containing peripheral controllers. See ISA and PCI.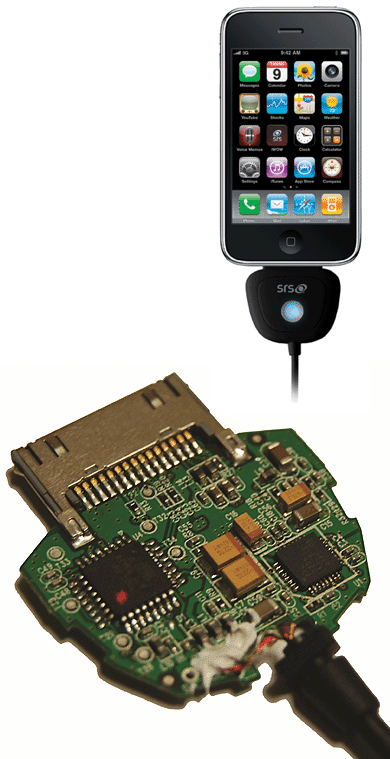 Boards Can Be Very Small
This earlier WOW HD board from SRS Labs created a more dynamic music experience. The complex processing that takes place on tiny PCBs such as this was unthinkable in the early days of computing. (Images courtesy of SRS Labs, Inc.)
---
punch card
(1) See loyalty punch card.

(2) An early storage medium made of thin cardboard stock that held data as patterns of punched holes. Also called "punched" cards, each of the 80 or 96 columns held one character. The holes were punched by an operator at a keypunch machine or by an attached card punch peripheral. The cards were fed into the computer by a card reader.

From 1890 Until the 1970s
Punch cards were synonymous with data processing for 80 years. Concepts were simple: the database was the file cabinet; a record was a card, and processing was performed on separate machines called "sorters," "collators," "reproducers," "calculators" and "accounting machines." After the 1950s, business transactions were punched into cards and fed to a computer to update the electronic files, first on tape and then on disk.

Gone But Not Forgotten
Today, the punch card is obsolete; however, some voting systems used the punch-card method until 2014. The presidential election of 2000 brought punch cards into infamy and made the U.S. the brunt of jokes worldwide for using such an antiquated error-prone system. The solution in many states was to migrate to electronic voting machines, which were developed without audit trails that prevented ballots from being recounted in close elections. So much for progress! See e-voting, sorter, tabulator, accounting machine, plugboard and Hollerith machine.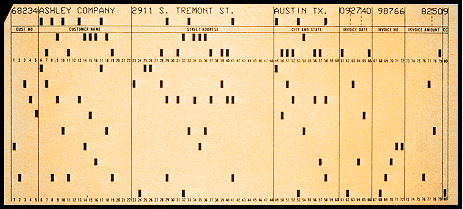 IBM Punch Card
Stemming from Hollerith's punch card tabulating system in 1890, punch cards "were" synonymous with data processing for more than 70 years. IBM and Sperry Rand were the two major providers of equipment. This 80-column IBM card shows a typical customer master record.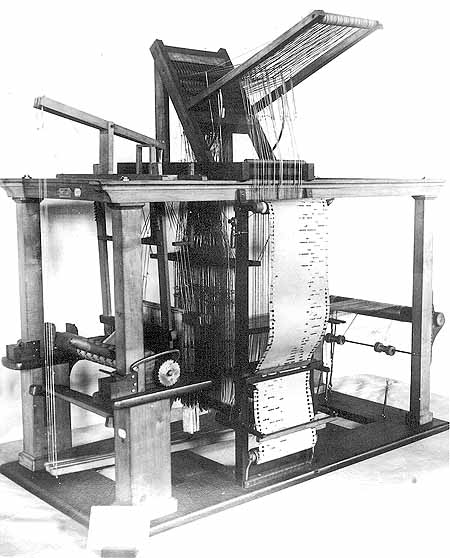 Jacquard Loom Inspiration
In operation decades before, the Jacquard loom was inspiration for Hollerith's machines. See Jacquard loom. (Image courtesy of The Computer History Museum, www.computerhistory.org)
Copyright © 1981-2019 by The Computer Language Company Inc. All Rights reserved. THIS DEFINITION IS FOR PERSONAL USE ONLY. All other reproduction is strictly prohibited without permission from the publisher.