monitor
(redirected from cardiac monitor)
Also found in:
Dictionary
,
Thesaurus
,
Medical
,
Financial
,
Wikipedia
.
monitor
, in zoology

monitor,

any of various, mostly tropical lizards. A monitor lizard has a heavy body, long head and neck, long tail that comes to a whiplike end, and strong legs with sharp claws. Its slender, forked tongue is protrusible. Monitors range in size from the 8-in. (20-cm) short-tailed species of W Australia to the 10-ft, 300-lb (3-m, 136-kg) Komodo dragon, the giant among living lizards, that lives on the small Indonesian island of Komodo and some smaller neighboring islands. Some monitor species spend their lives in trees, and others inhabit lakes and rivers; they can be found on the oceanic islands and continents of the Eastern Hemisphere in all types of warm habitats, from tropical forest to desert. They feed on various kinds of animal matter, including eggs, rats, frogs, and decaying meat. The larger species will attack small deer and pigs. They often tear the prey with claws and teeth, but generally swallow it whole or in large chunks. Monitors lay from 7 to 35 leathery eggs, usually in holes in the ground or in trees. They are classified in the phylum

Chordata

, subphylum Vertebrata, class Reptilia, order Squamata, family Varanidae, genus

Varanus.
---
monitor
, type of warship

monitor,

type of turreted warship (no longer used) carrying heavy guns, having little draft, and lying low in the water. Monitors were so called from the first of the class, the

Monitor,

built for the Union navy in the U.S. Civil War by John

Ericsson

. Launched in Jan., 1862, the

Monitor

was 179 ft (55 m) long, of 41.5-ft (13-m) beam, and weighed 1,200 tons. A revolving turret, protected by 8 in. (20.3 cm) of iron armor and containing two 11-in. (27.9-cm) smooth-bore guns, was its main feature. The sides were covered by iron plates from 3 to 5 in. (7.6–12.7 cm) thick, with about 27 in. (69 cm) of wood backing, and the deck, only 18 in. (46 cm) above water, was shielded with 1-in. (2.54-cm) armor. The ship was moved by steam power, with a screw propeller. (See

Monitor and Merrimack

for more information.) Monitors were used extensively in the Civil War, but the type had limitations—it was too heavy to navigate the oceans—and was eventually abandoned. However, they were used by the British navy in World War I.

The Columbia Electronic Encyclopedia™ Copyright © 2022, Columbia University Press. Licensed from Columbia University Press. All rights reserved.
Monitor
A superstructure that straddles the ridge of a roof or crowns a dome: often glazed to provide light or louvered to provide ventilation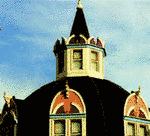 Illustrated Dictionary of Architecture Copyright © 2012, 2002, 1998 by The McGraw-Hill Companies, Inc. All rights reserved
The following article is from The Great Soviet Encyclopedia (1979). It might be outdated or ideologically biased.
Monitor
(Varanidae), a family of reptiles of the lizard suborder. It is represented now by only one living genus, Varanus. The body is elongated, and the legs are well developed; the tail in many species is compressed from the sides. The head is covered with tiny scuta; the scales of the trunk are rounded and protruding. The tongue is long and deeply cleft at the tip. There are 24 species, distributed in tropical, subtropical, and partly temperate regions of the eastern hemisphere; they are absent from Madagascar.
Monitors inhabit open places overgrown with shrubbery; many keep to the banks of rivers and other fresh-water bodies. They swim and dive well and can run rapidly. Monitors are predators and feed on lizards, snakes, and small mammals. They raid birds' nests and eat large insects and other arthropods. The species that live near water feed mainly on frogs, fish, crabs, mollusks, and other water creatures. The desert monitor (V. griseus), a characteristic inhabitant of the desert also known as the zem-zem, is widespread in North Africa and southwestern Asia (as far east as northwest India), and also in the USSR—in Turkmenia, Uzbekistan, Tadzhikistan, and southern Kazakhstan. Desert monitors are 1.5 m long, with pinkish-sandy coloration on top and broad brown transverse stripes on the back and tail. They settle in the burrows of other animals, more rarely digging their own. Sexual maturity comes no earlier than the third year of life. The female lays 10-20 eggs and buries them in sand. On the small island of Komodo and three adjacent islands, located east of the island of Java, lives the largest of contemporary monitors, the Komodo dragon, which attains a length of 3.7 m and weighs up to 100 kg. Giant forms (genus Megalania), up to 10 m in length, have been found in the Pleistocene deposits of Australia. Monitor leather is used for various products, including footwear; the meat is used as food in many countries.
REFERENCES
Terent'ev, P. V. Gerpetologiia. Moscow, 1961.
Mertens, R. Die Familie der Warane (Varanidae), vols. 1-3. Frankfurt am Main, 1942-43. (Abhandlungen der Senckenbergischen Naturforschenden Gesellschaft, nos. 462, 465, 466.)

S. A. CHERNOV and N. V. SHIBANOV
---
Monitor
an older student who served as an assistant teacher in schools using the monitorial system (also known as the Bell-Lancaster or Lancasterian system).
The monitorial system existed in Great Britain, the USA, France, Switzerland, Belgium, and Russia at the end of the 18th and beginning of the 19th centuries. (SeeMONITORIAL SYSTEM.)
---
Monitor
an American warship designed by the Swedish engineer J. Ericsson and built by the US federal government in 1861–62.
The Monitor was a flat-bottomed armorclad ship with a length of 56.4 m, beam of 12.5 m, draft of 3.6 m, elevation above water of 61 cm, displacement of 1,250 tons, and 130-mm side armor; it was equipped with two 280-mm guns in a revolving turret. On Mar. 9, 1862, during the Civil War in the USA (1861–65), the Monitor forced the Southern ironclad Merrimack to withdraw during a fierce battle in Hampton Roads. The battle pointed up the weakness of the artillery of that time against heavy armor, which led to the strengthening of ship artillery. The Monitor was the prototype of the monitor class of ships.
---
Monitor
a class of armored surface ships having artillery and designed to conduct warfare with coast artillery, to destroy enemy ships in coastal waters and in rivers, and to strike at armored, concrete, and other kinds of targets along the coast.
The term "monitor" was derived from the name of the American armored ship Monitor. The monitors built after World War I (1914–18) had a water displacement of about 8,000 tons and a speed of 8–15 knots and were armed with two or three guns of a caliber of up to 381 mm installed in turrets and as many as eight guns of a caliber of 102–120 mm; the thickness of the armor was between 102 and 330 mm; the small draft permitted them to come close to the shore. Monitors were used until World War II (1939–45), especially in rivers. After the war all countries stopped building monitors.
The Great Soviet Encyclopedia, 3rd Edition (1970-1979). © 2010 The Gale Group, Inc. All rights reserved.
monitor
[

′män·əd·ər

]

(computer science)

To supervise a program, and check that it is operating correctly during its execution, usually by means of a diagnostic routine.

(electronics)

(engineering)

An instrument used to measure continuously or at intervals a condition that must be kept within prescribed limits, such as radioactivity at some point in a nuclear reactor, a variable quantity in an automatic process control system, the transmissions in a communication channel or bank, or the position of an aircraft in flight.

To use meters or special techniques to measure such a condition.

A person who watches a monitor.

(mining engineering)

(vertebrate zoology)

Any of 27 carnivorous, voracious species of the reptilian family Varanidae characterized by a long, slender forked tongue and a dorsal covering of small, rounded scales containing pointed granules.

McGraw-Hill Dictionary of Scientific & Technical Terms, 6E, Copyright © 2003 by The McGraw-Hill Companies, Inc.
monitor, monitor roof
A raised section of a roof, usually straddling a ridge; has openings, louvers, or windows along the sides to admit light or air.
McGraw-Hill Dictionary of Architecture and Construction. Copyright © 2003 by McGraw-Hill Companies, Inc.
monitor
i. When used in communication, it means to listen on a particular frequency. It does not mean a contact has been established on that frequency. Monitored means, "Have you understood the instructions or information?" or "I have understood instructions or situation."
ii. To keep track of an airborne aircraft by radar and to transmit to it necessary flight information to ensure its safe operation or guidance.
iii. To keep check on a communication channel or network to maintain or improve communication service.
An Illustrated Dictionary of Aviation Copyright © 2005 by The McGraw-Hill Companies, Inc. All rights reserved
monitor
1.
Education
a. a senior pupil with various supervisory duties
b. a pupil assisting a teacher in classroom organization, etc.
2. a television screen used to display certain kinds of information in a television studio, airport, etc.
3. the unit in a desk computer that contains the screen
4.
a. a loudspeaker used in a recording studio control room to determine quality or balance
b. a loudspeaker used on stage to enable musicians to hear themselves
5. a device for controlling the direction of a water jet in fire fighting
6. any large predatory lizard of the genus Varanus and family Varanidae, inhabiting warm regions of Africa, Asia, and Australia
Collins Discovery Encyclopedia, 1st edition © HarperCollins Publishers 2005
monitor
(1)

A

cathode-ray tube

and associated electronics connected to a computer's video output. A monitor may be either

monochrome

(black and white) or colour (

RGB

). Colour monitors may show either digital colour (each of the red, green and blue signals may be either on or off, giving eight possible colours: black, white, red, green, blue, cyan, magenta and yellow) or analog colour (red, green and blue signals are continuously variable allowing any combination to be displayed). Digital monitors are sometimes known as

TTL

because the voltages on the red, green and blue inputs are compatible with TTL logic chips.

See also

gamut

,

multisync

,

visual display unit

.
monitor
(2)

A programming language construct which encapsulates variables, access procedures and initialisation code within an abstract data type. The monitor's variable may only be accessed via its access procedures and only one process may be actively accessing the monitor at any one time. The access procedures are critical sections. A monitor may have a queue of processes which are waiting to access it.
monitor
(3)

A hardware device that measures electrical events such as pulses or voltage levels in a digital computer.
monitor
(4)

To oversee a program during execution. For example, the monitor function in the

Unix C

library enables profiling of a certain range of code addresses. A histogram is produced showing how often the

program counter

was found to be at each position and how often each profiled function was called.

Unix man

page: monitor(3).
monitor
(5)

A control program within the

operating system

that manages the allocation of system resources to active programs.
monitor
(6)

A program that measures software performance.

This article is provided by FOLDOC - Free Online Dictionary of Computing (foldoc.org)
monitor
(1) A display screen that provides visual output from a computer, cable box, camera or other video-generating device. The two predominant screen technologies are LCD and OLED. See display standards, LCD, OLED, analog monitor, digital monitor and flat panel display.

(2) Software that observes the activities within a computer system. See computer monitoring.

(3) Hardware that gathers performance statistics via direct attachment to a CPU's circuit boards. See network analyzer.

(4) Firmware in a hardware device that provides control functions such as setting communications parameters. The monitor resides in a ROM or flash memory chip.

Copyright © 1981-2019 by The Computer Language Company Inc. All Rights reserved. THIS DEFINITION IS FOR PERSONAL USE ONLY. All other reproduction is strictly prohibited without permission from the publisher.