carpet
(redirected from carpets)
Also found in:
Dictionary
,
Thesaurus
,
Idioms
.
carpet
carpet or rug, thick fabric, usually woolen (but often synthetic), commonly used today as a floor covering.
Carpet Types and Modern Manufactures
A few classifications—Oriental, European handwoven, Brussels, Wilton, velvet, Axminster, chenille, ingrain, rag, hooked, straw, and fiber—embrace the entire range of carpets, both antique and modern.
To the first class belong not only the genuine antique Orientals, made through the 19th cent. and now comparatively rare, but also the modern reproductions. The materials are dyed either with traditional vegetable dyes or modern (and less desirable) aniline dyes and then woven. Many modern Orientals are washed in chlorine solutions to give an effect of age or in glycerine to simulate the luster of fine wool. Commercial methods have somewhat standardized and debased the characteristic ancient patterns, but the modern Orientals are still commercially important. Moreover, some traditional Oriental rugs are still produced, incorporating the deep, rich color and intricate patterns of Persia, the brighter hues and conventionalized figures of Asian Turkey, the simpler designs and primitive colorings of Turkistan and the Caucasus, and the symbolic ornament of China.
A limited number of European handwoven carpets, both Aubussons (tapestry) and Savonneries (pile), are now made in most Western countries. Modern commercial carpets are woven on complex and highly specialized machines, a development from Bigelow's power loom. Brussels carpet has a warp and weft of linen, with a pile of worsted yarn drawn into loops by means of wires. It is called three-, four-, or five-frame, depending on the number of bobbins carrying different-colored warp threads, which make the pattern. Tapestry Brussels is an inexpensive single-frame sort, either yarn printed or piece printed.
Wilton is made on the same principle, except that the loops that form the pile are cut as they are woven into place. Velvet is an equivalent of tapestry Brussels with the pile cut. Axminster, similar in effect to Oriental, uses unlimited colors in design made on machines that loop the tufts, one color at a time, and then interlock the weft about them. Chenille, or chenille Axminster, is made in two stages. First the chenille thread, or fur, as it is called, is made, then it is folded and ironed so that the woolen fibers are like a fringe along a cotton or linen chain. This fur is then woven into a strong backing of linen with the nap on the surface.
Ingrain, no longer widely used, is a plain-weave fabric, of two- or three-ply woolen weft on a concealed cotton warp. Rag carpets, made of used rags sewn together for warp, were first woven on household looms; they became commercially important in the latter part of the 19th cent. Hooked rugs are made of narrow strips of woolen cloth drawn by a pointed hook through a canvas foundation on which a design is indicated.
Early History
Carpets were formerly woven to protect the body from cold, to be spread on a dais or before a seat of honor, to cover a table, couch, or wall, or to form the curtains of a tent. There is evidence of the existence of handwoven carpets in antiquity. On the rock tombs of Beni Hassan, Egypt, c.2500 B.C., men are depicted with the implements of rug weaving. Other evidence of the early use of rugs is seen in the drawings on the ancient palace walls of Nineveh.
Oriental Carpets
In the mountainous regions of the East stretching from Turkey through Persia and Central Asia into China, where the fleece of the sheep and the hair of the camel and goat grow long and fine, the art of carpet-weaving reached its height early in the 16th cent. The artisan worked on a handloom consisting essentially of two horizontal beams on which the warp (the vertical threads) was stretched; on the lower one the finished carpet was rolled while the warp unrolled from the upper one. The yarn for the pile, spun and dyed by hand, was cut in lengths of about 2 in. (5.1 cm) and knotted about the warp threads, one tuft at a time, after one of the two established ways of tying—the Ghiordes, or Turkish, knot and the Senna, or Persian, knot.
After a row of knots had been placed across the width of the loom, two or more weft, or horizontal, threads of cotton or flax were woven in and beaten into place with a heavy beater, or comb. The tufts, or pile, thus appeared only on the face of the fabric, which when completed was sheared to perfect smoothness. Although the hair of the camel and the goat was used in the weaving of Oriental rugs, the wool of the sheep was the essential component. Beautiful silk rugs interwoven with gold thread were also made in the 16th and 17th cent. To some degree, the quality of a carpet depends on the materials used and the number of knots per square inch of surface, which may vary from 40 to 1,000. Also produced in these regions are the geometrically patterned and flat woven rugs known as kilims.
European Carpets
In 1608, King Henry IV of France established weavers in the Louvre. About 20 years later an old soap works, the Savonnerie, near Paris, was converted to carpet weaving, and its name remains attached to one of the finest types of handmade carpet, now made at the Gobelin tapestry factory. Tapestries for walls and floors were made at Aubusson at an early date.
In 1685 the revocation of the Edict of Nantes scattered skilled Protestant carpetmakers over Europe. Centers of weaving were established in England, first at Kidderminster (1735) and later at Wilton and Axminster. Cheaper, more easily manufactured floor covering soon came into demand, and the making of ingrain, or reversible, carpets began at Kidderminster. The weavers of Flanders had made a loom that produced a pile by looping the worsted warp threads, and this loom, although guarded, was copied by a Kidderminster weaver; soon many looms in England were making Brussels carpet. Axminster was England's headquarters for imitation Oriental, or tufted-pile, carpet.
Until about 1840 all carpets were made on handlooms with such devices and improvements as could be operated by hand or foot power; then Erastus Bigelow's power loom (first used in 1841), which made it possible for carpets to be mass produced, revolutionized the industry. Although handmade rugs are still produced in some countries, e.g., Turkey, carpet manufacturing has become a highly mechanized industry, notably in the United States, Great Britain, Canada, Belgium, and Japan.
Other Rugs
In North America the Navajos and other tribes have for generations produced substantial rugs without pile, woven somewhat in the manner of
tapestry
on simple handlooms. In the palaces of Montezuma remarkable floor coverings were found that utilized the plumage of birds. The primitive use of rushes or straw has survived in the form of Chinese and Japanese mattings.
Bibliography
See W. von Bode and E. Kühnel, Antique Rugs from the Near East (tr. of 4th rev. ed. 1970); G. Robinson, Carpets and Other Textile Floorcoverings (2d rev. ed. 1972); J. Moshimer, The Complete Rug Hooker (1975); E. Gans-Ruedin, The Splendor of Persian Carpets (1978).
The Columbia Electronic Encyclopedia™ Copyright © 2022, Columbia University Press. Licensed from Columbia University Press. All rights reserved.
What does it mean when you dream about a carpet?
A carpet decorates but can also hide, as in the expression "to sweep under the carpet," so a carpet in a dream can indicate something that is hidden. Carpets also have a positive, welcoming meaning, as in the expression "to roll out the red carpet."
The Dream Encyclopedia, Second Edition © 2009 Visible Ink Press®. All rights reserved.
carpet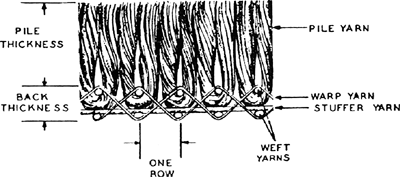 A heavy, durable floor covering, usually of woven, knitted, or needle-tufted fabric; commonly installed with tacks or staples, or by adhesives.
McGraw-Hill Dictionary of Architecture and Construction. Copyright © 2003 by McGraw-Hill Companies, Inc.