cartoon
Also found in:
Dictionary
,
Thesaurus
,
Medical
,
Wikipedia
.
cartoon
[Ital., cartone=paper], either of two types of drawings: in the fine arts, a preliminary sketch for a more complete work; in journalism, a humorous or satirical drawing.
Cartoons in the Fine Arts
In the fine arts, the cartoon is a full-sized preliminary drawing for a work to be executed afterward in fresco, oil, mosaic, stained glass, or tapestry. Glass and mosaic are cut exactly according to the patterns taken from the cartoons, while in tapestry the cartoon is inserted beneath the warp to serve as a guide. In frescofresco
[Ital.,=fresh], in its pure form the art of painting upon damp, fresh, lime plaster. In Renaissance Italy it was called buon fresco to distinguish it from fresco secco, which was executed upon dry plaster with pigments having a glue or casein base.
..... Click the link for more information. painting, the lines of the cartoon are perforated and transferred to the plaster surface by pouncing (dusting with powder through the perforations). Italian Renaissance painters made very complete cartoons, and such works as Raphael's cartoons for the Sistine Chapel tapestries (Victoria and Albert Mus.) are considered masterpieces.
Cartoons in Journalism
In England in 1843 a series of drawings appeared in Punch magazine that parodied the fresco cartoons submitted in a competition for the decoration of the new Houses of Parliament. In this way cartoon, in journalistic parlance, came to mean any single humorous or satirical drawing employing distortion for emphasis, often accompanied by a caption or a legend. Cartoons, particularly editorial or political cartoons, make use of the elements of caricaturecaricature,
a satirical drawing, plastic representation, or description which, through exaggeration of natural features, makes its subject appear ridiculous. Although 16th-century Northern painters, such as Holbein, Bruegel, and Bosch, employed certain elements of caricature, no
..... Click the link for more information. .
Political Cartoons
The political cartoon first appeared in 16th-century Germany during the Reformation, the first time such art became an active propaganda weapon with social implications. While many of these cartoons were crudely executed and remarkably vulgar, some, such as Holbein's German Hercules, were excellent drawings produced by the best artists of the time. In 18th-century England the cartoon became an integral and effective part of journalism through the works of HogarthHogarth, William,
1697–1764, English painter, satirist, engraver, and art theorist, b. London. At the age of 15 he was apprenticed to a silver-plate engraver. He soon made engravings on copper for bookplates and illustrations—notably those for Butler's Hudibras
..... Click the link for more information. , RowlandsonRowlandson, Thomas
, 1756–1827, English caricaturist, b. London. He studied at the Royal Academy and in Paris, but his passion for gambling prevented him from producing much until c.1782, when he was obliged to earn a living.
..... Click the link for more information. , and GillrayGillray, James
, 1757–1815, English caricaturist and illustrator. He was essentially self-trained although he studied at the Royal Academy and on the Continent. His caricatures of the court of George III made him immensely popular.
..... Click the link for more information. , who often used caricature. DaumierDaumier, Honoré
, 1808–79, French caricaturist, painter, and sculptor. Daumier was the greatest social satirist of his day. Son of a Marseilles glazier, he accompanied his family to Paris in 1816. There he studied under Lenoir and learned lithography.
..... Click the link for more information. , in France, became well known for his virulent satirical cartoons.
By the mid-19th cent. editorial cartoons had become regular features in American newspapers, and were soon followed by sports cartoons and humorous cartoons. The effect of political cartoons on public opinion was amply demonstrated in the elections of 1871 and 1873, when the power of Tammany Hall was broken and Boss Tweed imprisoned largely through the efforts of Thomas NastNast, Thomas,
1840–1902, American caricaturist, illustrator, and painter, b. Landau, Germany. He was brought to the United States in 1846. He began his career as a draftsman for Frank Leslie's Illustrated Newspaper and Harper's Weekly.
..... Click the link for more information. and his cartoons for Harper's Weekly. In 1922 the first Pulitzer Prize for editorial cartooning was won by Rollin Kirby of the New York World. Other noted political cartoonists include John T. McCutcheonMcCutcheon, John Tinney
, 1870–1949, American cartoonist, b. Tippecanoe co., Ind. He had been associated with the Chicago Record and Record-Herald when in 1903 he joined the staff of the Chicago Tribune,
..... Click the link for more information. , C. D. Batchelor, Jacob Burck, Bill MauldinMauldin, Bill
(William Henry Mauldin), 1921–2003, American cartoonist, b. Mountain Park, N.Mex. During World War II, in which he served as an infantryman-cartoonist in Italy, France, and Germany, Mauldin achieved fame with his sardonic cartoons.
..... Click the link for more information. , Rube GoldbergGoldberg, Rube
(Reuben Lucius Goldberg), 1883–1970, American cartoonist and sculptor, b. San Francisco. After drawing cartoons for San Francisco newspapers, he moved to New York City.
..... Click the link for more information. , Tom Little, Patrick Oliphant, and Herblock (Herbert BlockBlock, Herbert Lawrence,
1909–2001, American editorial cartoonist known as Herblock,
b. Chicago. A superb stylist and generally a political liberal, Herblock began drawing cartoons (1929–33) for the Chicago Daily News,
..... Click the link for more information. ).
Humorous Cartoons
Humorous nonpolitical cartoons became popular with the development of the color press, and in 1893 the first color cartoon appeared in the New York World. In 1896 R. F. Outcault originated The Yellow Kid, a large single-panel cartoon with some use of dialogue in balloons, and throughout the 90s humorous cartoons by such artists as T. S. Sullivant, James Swinnerton, Frederick B. Opper, and Edward W. Kemble began to appear regularly in major newspapers and journals. The New Yorker and Saturday Evening Post were among the most notable American magazines to use outstanding single cartoon drawings.
Single cartoons soon developed into the narrative newspaper comic stripcomic strip,
combination of cartoon with a story line, laid out in a series of pictorial panels across a page and concerning a continuous character or set of characters, whose thoughts and dialogues are indicated by means of "balloons" containing written speech.
..... Click the link for more information. , but the single panel episodic tradition also survived and thrived. It is exemplified by the work of humorists such as Charles AddamsAddams, Charles Samuel,
1912–88, American cartoonist, b. Westfield, N.J. Beginning in 1932, Addams's work appeared regularly in the New Yorker, to which he eventually contributed more than 1,300 cartoons.
..... Click the link for more information. , Peter ArnoArno, Peter
, 1904–68, American cartoonist, b. New York City. Arno's satirical cartoons appeared in the New Yorker from 1925 until his death. He achieved a distinctive drawing style featuring heavily outlined figures.
..... Click the link for more information. , Saul Steinberg, James ThurberThurber, James,
1894–1961, American humorist, b. Columbus, Ohio, studied at Ohio State Univ. After working on various newspapers he served on the staff of the New Yorker
..... Click the link for more information. , William Steig, Helen Hokinson, Mary Petty, Whitney Darrow, George Price, Edward Koren, Roz Chast, the Englishmen Rowland Emmett and Ronald SearleSearle, Ronald William Fordham,
1920–2011, British cartoonist, b. Cambridge. He joined the army as World War II broke out, was captured (1942) by the Japanese at Singapore, and was in the forced labor gang that built the Burma railway under horrendous conditions.
..... Click the link for more information. , and the French cartoonists André François and Bil.
Bibliography
See studies by D. Low (1953), O. Lancaster (1964); R. E. Shikes, The Indignant Eye (1969); J. Geipel (1972); M. Horn, ed., The World Encyclopedia of Cartoons (1980); A. Wood, Great Cartoonists and Their Art (1987); V. S. Navasky, The Art of Controversy: Political Cartoons and Their Enduring Power (2013).
The Columbia Electronic Encyclopedia™ Copyright © 2013, Columbia University Press. Licensed from Columbia University Press. All rights reserved.
www.cc.columbia.edu/cu/cup/
cartoon
A drawing or painting made as a detailed model of an architectural embellishment, often full-scale, to be transferred in preparation for a fresco, mosaic or tapestry.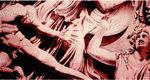 See also: Design drawing

Illustrated Dictionary of Architecture Copyright © 2012, 2002, 1998 by The McGraw-Hill Companies, Inc. All rights reserved
The following article is from The Great Soviet Encyclopedia (1979). It might be outdated or ideologically biased.
Cartoon
in art, a large preliminary drawing (not alwaysblack and white) with the dimensions of a projected work of art, such as a fresco, mosaic, stained glass, or Gobelin tapestry. Bypiercing the outlines of the cartoon, the composition of a pro-jected fresco was transferred onto the wall. European artists usedcartoons extensively during the Renaissance and during the 17thand 18th centuries.
The Great Soviet Encyclopedia, 3rd Edition (1970-1979). © 2010 The Gale Group, Inc. All rights reserved.
cartoon
[

kär′tün

]

(graphic arts)

Animated drawings in a motion picture format.

A drawing on paper that is used as a model for a final work.

McGraw-Hill Dictionary of Scientific & Technical Terms, 6E, Copyright © 2003 by The McGraw-Hill Companies, Inc.
cartoon
A drawing or painting made as a detailed model, often full-scale, of an architectural embellishment.
McGraw-Hill Dictionary of Architecture and Construction. Copyright © 2003 by McGraw-Hill Companies, Inc.
cartoon
2. a full-size preparatory sketch for a fresco, tapestry, mosaic, etc., from which the final work is traced or copied
Collins Discovery Encyclopedia, 1st edition © HarperCollins Publishers 2005
Cartoon
(dreams)

Seeing a cartoon world in your dreams or seeing cartoonlike people suggests that your unconscious is sending up messages which are telling you something about the way you perceive the world. The cartoon people, or cartoon characters, suggest that you may perceive yourself and those around you as comical or as not having much validity or seriousness. Your perceptions may be somewhat off due to your inability to look at the way things really are. Your mind's eye distorts things so that you are more comfortable with what is going on around you. If your world is full of stress and this dream made you laugh, consider the compensatory nature of it. In your dream you may be able to obtain moments of lightheartedness and fun.

Bedside Dream Dictionary by Silvana Amar Copyright © 2007 by Skyhorse Publishing, Inc.