cast-iron architecture
Also found in:
Wikipedia
.
cast-iron architecture,
a term used to designate buildings that incorporate cast iron for structural and/or decorative purposes. After 1800 cast-iron supports were exploited as an alternative to masonry, and with the introduction of wrought-iron beams at mid-century, an efficient, prefabricated method of skeletal construction was possible, of which the most notable example was Joseph Paxton's Crystal PalaceCrystal Palace,
building designed by Sir Joseph Paxton and erected in Hyde Park, London, for the Great Exhibition in 1851. In 1854 it was removed to Sydenham, where, until its damage by fire in 1936, it housed a museum of sculpture, pictures, and architecture and was used for
.....

Click the link for more information.

(1851) in London. Iron and glass canopies were used to cover such diverse structures as shopping arcades, library reading rooms, and the vast new railway terminals. In the United States, James BogardusBogardus, James
, 1800–1874, American architect, b. Catskill, N.Y. Among the first to use cast iron in the construction of building facades, Bogardus was noted for his commercial building designs in New York City.
.....

Click the link for more information.

pioneered the use of cast-iron commercial facades, which combined utility with the easy replication of attenuated classical orders in repeated bays.

The Columbia Electronic Encyclopedia™ Copyright © 2013, Columbia University Press. Licensed from Columbia University Press. All rights reserved.

www.cc.columbia.edu/cu/cup/
Cast-iron architecture
Buildings originally designed to emulate stone buildings in Renaissance style designs. They eventually developed a recognizable style of their own. They housed manufacturing companies who have since vanished, leaving large uninterrupted spaces with heavy timber and iron construction in its wake. Many have now been converted to living lofts above commercial stores.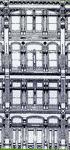 Illustrated Dictionary of Architecture Copyright © 2012, 2002, 1998 by The McGraw-Hill Companies, Inc. All rights reserved
cast-iron architecture
In building construction, cast iron used in combination with wrought iron for the
framing
of commercial buildings and for the components of
cast-iron fronts
; used primarily before the advent of
steel-frame construction
. Usually characterized by: prefabricated cast-iron components, repetitive modules, and large windows, in contrast to earlier masonry façades in which large windows were impractical because they weakened the wall into which they were set.
McGraw-Hill Dictionary of Architecture and Construction. Copyright © 2003 by McGraw-Hill Companies, Inc.