celestial latitude
Also found in:
Dictionary
,
Thesaurus
,
Wikipedia
.
celestial latitude
[

sə′les·chəl ′lad·ə'tüd

]

(astronomy)

Angular distance north or south of the ecliptic; the arc of a circle of latitude between the ecliptic and a point on the celestial sphere, measured northward or southward from the ecliptic through 90°, and labeled N or S to indicate the direction of measurement. Also known as ecliptic latitude.
celestial latitude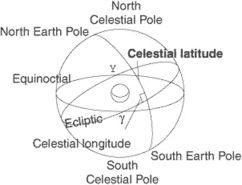 The angular distance on the celestial sphere measured north or south of the ecliptic along the great circle passing through the poles of the ecliptic and the celestial object. It is measured in degrees along the circle of latitude. Today, this coordinate is seldom used; the declination, which is measured from the celestial equator, is used instead.