celestial poles
Also found in:
Dictionary
,
Thesaurus
.
celestial poles
The two points at which the extension of the Earth's axis of rotation cuts the celestial sphere. As a result of the precession of the Earth's axis the positions of the poles are not fixed but trace out a circle on the celestial sphere in a period of about 25 800 years. The north celestial pole revolves about a point in the constellation Draco and at present lies in Ursa Minor close to the star Polaris. The south celestial pole lies in the constellation Octans. See also pole star.

Collins Dictionary of Astronomy © Market House Books Ltd, 2006
The following article is from The Great Soviet Encyclopedia (1979). It might be outdated or ideologically biased.
Celestial Poles
(north and south celestial poles), the two points on the celestial sphere at which it is interesected by the celestial axis, that is, by the line parallel to the earth's axis of rotation and passing through the center of the celestial sphere. The celestial poles are independent of the diurnal rotation of the celestial sphere, but as a consequence of precession they slowly shift with respect to the stars along circles approximately 23.5° in radius. These circles have centers at the poles of the ecliptic, and a revolution is completed every 26,000 years. Because of nutation, the celestial poles execute minute oscillatory motions as they travel along these circles. These oscillations have an amplitude of approximately 9ʺ and a period of 18.6 years. In 1975 the north celestial pole was 51ʹ in angular distance from α Ursae Minoris, which is therefore called Polaris. In 5,500 years, the north celestial pole will be located near the star α Cephei.
The Great Soviet Encyclopedia, 3rd Edition (1970-1979). © 2010 The Gale Group, Inc. All rights reserved.
celestial poles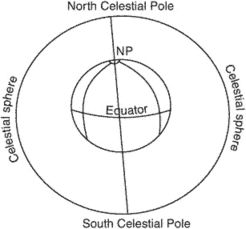 The point on the celestial sphere where the earth's axis, if projected, would intersect the celestial sphere.
An Illustrated Dictionary of Aviation Copyright © 2005 by The McGraw-Hill Companies, Inc. All rights reserved