centrifugal fan
Also found in:
Wikipedia
.
centrifugal fan
[

'sen′trif·i·gəl ′fan

]

(mechanical engineering)

A machine for moving a gas, such as air, by accelerating it radially outward in an impeller to a surrounding casing, generally of scroll shape.
centrifugal fan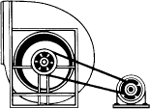 A fan, within a scroll-type housing, which receives air along the axis and discharges it radially; may be either belt-driven or connected directly to a motor.