centrifugal pump
Also found in:
Dictionary
,
Thesaurus
,
Wikipedia
.
centrifugal pump
[

'sen′trif·i·gəl ′pəmp

]

(mechanical engineering)

A machine for moving a liquid, such as water, by accelerating it radially outward in an impeller to a surrounding volute casing.

McGraw-Hill Dictionary of Scientific & Technical Terms, 6E, Copyright © 2003 by The McGraw-Hill Companies, Inc.
Centrifugal pump
A machine for moving fluid by accelerating it radially outward. More fluid is moved by centrifugal pumps than by all other types combined. Centrifugal pumps consist basically of one or more rotating impellers in a stationary casing which guides the fluid to and from the impeller or from one impeller to the next in the case of multistage pumps. Impellers may be single suction or double suction. Additional essential parts of all centrifugal pumps are (1) wearing surfaces or rings, which make a close-clearance running joint between the impeller and the casing to minimize the backflow of fluid from the discharge to the suction; (2) the shaft, which supports and drives the impeller; and (3) the stuffing box or seal, which prevents leakage between shaft and casing.
The rotating impeller imparts pressure and kinetic energy to the fluid pumped. A collection chamber in the casing converts much of the kinetic energy into head or pressure energy before the fluid leaves the pump. A free passage exists at all times through the impeller between the discharge and inlet side of the pump. Rotation of the impeller is required to prevent back-flow or draining of fluid from the pump. Because of this, only special forms of centrifugal pumps are self-priming. Most types must be filled with liquid, or primed, before they are started.
Every centrifugal pump has its characteristic curve, which is the relation between capacity or rate of flow and pressure or head against which it will pump. At zero pressure-difference, maximum capacity is obtained, but without useful work. As resistance to flow external to the pump increases, capacity decreases until, at a high pressure, flow ceases entirely. This is called shut-off head and again no useful work is done. Between these extremes, capacity and head vary in a fixed relationship at constant rpm. When the required head exceeds that practical for a single-stage pump, several stages are employed. Multistage pumps range from two-stage pumps to pumps built with as many as 20 or 30 stages for high lifts from relatively small-diameter wells. See Pump, Pumping machinery
McGraw-Hill Concise Encyclopedia of Engineering. © 2002 by The McGraw-Hill Companies, Inc.
centrifugal pump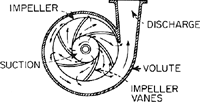 A pump in which the pressure is imparted to the fluid by centrifugal force produced by a rotating impeller.
McGraw-Hill Dictionary of Architecture and Construction. Copyright © 2003 by McGraw-Hill Companies, Inc.
centrifugal pump
Any pump that uses a high-speed impeller to throw the fluid outward by centrifugal action.
An Illustrated Dictionary of Aviation Copyright © 2005 by The McGraw-Hill Companies, Inc. All rights reserved