chapel
Also found in:
Dictionary
,
Thesaurus
,
Acronyms
,
Wikipedia
.
chapel,
subsidiary place of worship. It is either an alcove or chamber within a church, a separate building, or a room set apart for the purpose of worship in a secular building. A movable shrine containing the cappa, or cloak, of St. MartinMartin, Saint,
c.316–397, bishop of Tours. Born a heathen in Pannonia (in modern Hungary), the son of a soldier, he became a convert and refused to fight Christians. He went (c.360) to St. Hilary of Poitiers and built himself a hermitage.
.....

Click the link for more information.

was first called a cappella; hence a sanctuary that is not called a church. Though the churches of the early Middle Ages possessed only the single altar of the apse, chapels became necessary with the increase of relics and of devotions at altars sacred to numerous saints. At first they appeared as minor apses, flanking the main apse. After the 10th cent., in order to accommodate the increasing number of pilgrims, a complex series of radiating chapels was developed behind the high altar. In the 13th cent. chapels were added to the side-aisle bays of choir and nave. In England the strongly projecting transepts provided the favored space for a relatively small number of chapels. In France the Lady Chapel (dedicated to the Virgin) is the central chapel of the chevet and is sometimes larger than the others, while in England it occurs directly behind the high altar. Peculiar to English cathedrals are the small chantry chapels, mostly of the 14th and 15th cent., either built and endowed by individuals for their private Masses or serving to enclose the tombs of bishops and other churchmen. From the early Middle Ages, members of royalty had the right to an independent private chapel. Such are the separate building of the Sainte-Chapelle, Paris; St. George's Chapel at Windsor; and Henry VII's magnificent chapel at Westminster, London. In addition, there were royal mortuary chapels, the most celebrated being that of Charlemagne (796–804), at Aachen, since converted into a cathedral. Numerous lords of medieval castles and manor houses established private chapels, over which episcopal jurisdiction was enforced as completely as possible. The two main chapels at the Vatican are the Pauline Chapel (1540), designed by Antonio da SangalloSangallo
, three Italian Renaissance architects, two brothers and their nephew. Giuliano da Sangallo, 1445–1516, designed the Church of Santa Maria delle Carceri at Prato and palaces in Florence. After Bramante's death Giuliano worked on St.
.....

Click the link for more information.

for Paul III, and the Sistine Chapel (1473), built by Sixtus IV and celebrated for its great fresco decorations by MichelangeloMichelangelo Buonarroti
, 1475–1564, Italian sculptor, painter, architect, and poet, b. Caprese, Tuscany. Early Life and Work

Michelangelo drew extensively as a child, and his father placed him under the tutelage of Ghirlandaio, a respected artist of the day.
.....

Click the link for more information.

and other masters. Two of the most famous French modern chapels (built in the 1950s) are the chapel at Vence designed by Henri MatisseMatisse, Henri
, 1869–1954, French painter, sculptor, and lithographer. Along with Picasso, Matisse is considered one of the two foremost artists of the modern period. His contribution to 20th-century art is inestimably great.
.....

Click the link for more information.

and the one at Ronchamp by Le CorbusierLe Corbusier
, pseud. of Charles Édouard Jeanneret
, 1887–1965, French architect, b. La Chaux-de-Fonds, Switzerland. Often known simply as "Corbu," he was one of the most influential architects of the 20th cent.
.....

Click the link for more information.

; both are freestanding buildings.

The Columbia Electronic Encyclopedia™ Copyright © 2013, Columbia University Press. Licensed from Columbia University Press. All rights reserved.

www.cc.columbia.edu/cu/cup/
Chapel
A small area within a larger church, containing an altar and intended for private prayer; a small secondary church in a parish; a room designated for religious use within the complex of a school, college, or hospital.
Illustrated Dictionary of Architecture Copyright © 2012, 2002, 1998 by The McGraw-Hill Companies, Inc. All rights reserved
The following article is from The Great Soviet Encyclopedia (1979). It might be outdated or ideologically biased.
Chapel
(1) In church architecture (Catholic and Anglican), a small room for preservation of relics, accommodation of choristers, and worship by the members of a notable family. Chapels were located in churches (in the aisles or around the choir), castles, and palaces. They were also built as separate structures (for example, the Sistine Chapel).
(2) A choir of singers. The word initially was used to designate the room in which the choir was originally placed. At first chapels were purely vocal. With the development of instrumental music, they usually became ensembles, including singers and instrumentalists. Prominent composers, such as J. S. Bach and F. J. Haydn, directed chapels. These types of choirs were introduced to Russia in the 18th century and became widespread, primarily on country estates. The composers S. A. Degtiarev, S. I. Davydov, and D. N. Kashin wrote for chapels. The most outstanding was the Imperial Chapel (now the M. I. Glinka Leningrad State Academic Chapel), with which D. S. Bortnian-skii, M. I. Glinka, N. A. Rimsky-Korsakov, M. A. Balakirev, A. S. Arenskii, and S. M. Liapunov were affiliated.
In the past many court, theater, and civic orchestras were referred to as chapels. In the USSR this term is used for some instrumental groups (for example, bandore players).
---
Chapel
(chasovnia), in Christian architecture, a small building or structure for prayer without a special place for an altar. Orthodox chapels are usually separate buildings located in cities and villages, on roads, in cemeteries, and elsewhere.
The Great Soviet Encyclopedia, 3rd Edition (1970-1979). © 2010 The Gale Group, Inc. All rights reserved.
chapel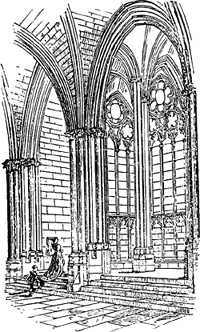 1. A small area within a larger church, containing an altar and intended primarily for private prayer.
2. A room or a building designated for religious purposes within the complex of a school, college, hospital, or other institution.
3. A small secondary church in a parish.
McGraw-Hill Dictionary of Architecture and Construction. Copyright © 2003 by McGraw-Hill Companies, Inc.
chapel
1. a place of Christian worship in a larger building, esp a place set apart, with a separate altar, in a church or cathedral
2. a similar place of worship in or attached to a large house or institution, such as a college, hospital or prison
3. a church subordinate to a parish church
4.
in Britain
a. a Nonconformist place of worship
b. Nonconformist religious practices or doctrine
c. (as adjective): he is chapel, but his wife is church
5. (in Scotland) a Roman Catholic church
Collins Discovery Encyclopedia, 1st edition © HarperCollins Publishers 2005