chevron
Also found in:
Dictionary
,
Thesaurus
,
Wikipedia
.
chevron
an ornamental moulding having a zigzag pattern
Chevron
a badge consisting primarily of angular stripes of galloon, braid, or cord and worn in many armies on various parts of the uniform—usually the sleeve—to indicate rank. Chevrons are also used to designate the number of years of extended service, the level of study of a cadet, and the receipt of a wound.
Gold gallooned chevrons to be worn on the left sleeve of the greatcoat and the pea jacket were introduced in the Soviet Navy in February 1941 to indicate extended service. Chevrons of silver or gold galloon, also indicating extended service, were introduced in the Soviet Army in November 1945. They were worn on the left sleeve of the greatcoat, dress jacket, and service shirt. After January 1958, chevrons were no longer used.
chevron
[

′shev·rən

]

(vertebrate zoology)

The bone forming the hemal arch of a caudal vertebra.
chevron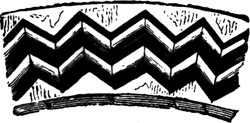 1. A V-shaped stripe pointing up or down, used singly or in groups in heraldry and on uniforms; hence, any ornament so shaped.
2.
A molding showing a zigzag sequence of these ornaments in Romanesque architecture or derivatives; a
dancette
or
zigzag molding.