chiaroscuro
Also found in:
Dictionary
,
Thesaurus
,
Wikipedia
.
chiaroscuro
chiaroscuro
(kyärōsko͞oˈrō)
[Ital.,=light and dark], term once applied to an early method of printing woodcuts from several blocks and also to works in black and white or monotone. Today it is used loosely to refer to the distribution of light and dark in painting.
The Columbia Electronic Encyclopedia™ Copyright © 2022, Columbia University Press. Licensed from Columbia University Press. All rights reserved.
Chiaroscuro
The effect of light and shadow within an area or composition, brought about by the use of deep variations to enhance the forms.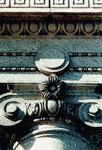 Illustrated Dictionary of Architecture Copyright © 2012, 2002, 1998 by The McGraw-Hill Companies, Inc. All rights reserved
The following article is from The Great Soviet Encyclopedia (1979). It might be outdated or ideologically biased.
Chiaroscuro
the distribution of light and shadow on an object, determined by the form and texture of the object's surface and by the lighting. Chiaroscuro makes it possible for the eye to apprehend the volume and contours of the object.
In painting and graphic art, chiaroscuro is the distribution of colors or shades of color of varying brightness in such a way as to impart a sense of three-dimensionality to an object. Also suggested is an ambience of light and air. Gradations of chiaroscuro—from maximum brightness to deep shadow —depend on the nature of the lighting, the specific form and texture of the object, and atmospheric conditions. Painters made use of chiaroscuro as far back as antiquity. Its theory was developed by Renaissance masters, particularly by Leonardo da Vinci. Since the Renaissance, chiaroscuro has been widely used by artists as a means of emotional expressiveness.
The Great Soviet Encyclopedia, 3rd Edition (1970-1979). © 2010 The Gale Group, Inc. All rights reserved.
chiaroscuro
Art
1. the artistic distribution of light and dark masses in a picture
2. monochrome painting using light and dark only, as in grisaille
Collins Discovery Encyclopedia, 1st edition © HarperCollins Publishers 2005