chimney
(redirected from chimneys)
Also found in:
Dictionary
,
Thesaurus
,
Idioms
.
chimney
1.
Geology
a. a cylindrical body of an ore, which is usually oriented vertically
b. the vent of a volcano
2. Mountaineering a vertical fissure large enough for a person's body to enter
Collins Discovery Encyclopedia, 1st edition © HarperCollins Publishers 2005
Chimney
A vertical noncombustible structure, containing one or more flues to carry smoke from the fireplaces to the outside, usually rising above the roof.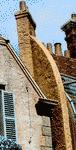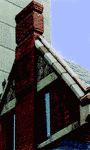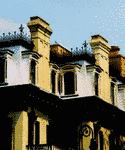 Illustrated Dictionary of Architecture Copyright © 2012, 2002, 1998 by The McGraw-Hill Companies, Inc. All rights reserved
The following article is from The Great Soviet Encyclopedia (1979). It might be outdated or ideologically biased.
Chimney
a vertical pipe for discharging into the atmosphere gaseous products of fuel combustion from boiler units or industrial and space-heating furnaces.
In small central-heating boilers and furnaces chimneys are designed to create a natural draft, under the influence of which air for fuel combustion enters into the firebox and flue gases are discharged. In large boiler installations natural draft is replaced by a forced draft produced though flue gas pumps. Health standards require that the greater the hourly fuel consumption and the greater the ash and sulfur content, the higher the chimney must be. A chimney consists of a foundation, base, and shaft. The inner surface of the shaft is protected by a fire-resistant brick lining. Chimney sizes (height and diameter of the mouth) in the USSR have been standardized. Brick chimneys are made with heights up to 120 m and diameters of 0.75-8 m; reinforced-concrete chimneys are up to 300 m in height and 10 m in diameter; steel sheet chimneys (thickness of 3-15 mm) are not more than 40 m in height and 0.4-1 m in diameter.
The Great Soviet Encyclopedia, 3rd Edition (1970-1979). © 2010 The Gale Group, Inc. All rights reserved.
What does it mean when you dream about a chimney?
Chimneys are often associated with cultural implications of Santa Claus arriving to reward those who have been good with gifts. They also symbolize the warmth and cheer of family as in the traditional "home-sweet-home" scene on the front of greeting cards, gifts of candies, and food and homemade items of every description featuring the smoking brick chimney.
The Dream Encyclopedia, Second Edition © 2009 Visible Ink Press®. All rights reserved.
chimney
[

′chim'nē

]

(building construction)

A vertical, hollow structure of masonry, steel, or concrete, built to convey gaseous products of combustion from a building.

(electronics)

A pipelike enclosure that is placed over a heat sink to improve natural upward convection of heat and thereby increase the dissipating ability of the sink.

(geology)

McGraw-Hill Dictionary of Scientific & Technical Terms, 6E, Copyright © 2003 by The McGraw-Hill Companies, Inc.
Chimney
A vertical hollow structure of masonry, steel, or reinforced concrete, built to convey gaseous products of combustion from a building or process facility. A chimney should be high enough to furnish adequate draft and to discharge the products of combustion without causing local air pollution. The height and diameter of a chimney determine the draft. For adequate draft, small industrial boilers and home heating systems depend entirely upon the enclosed column of hot gas. In contrast, stacks, which are chimneys for large power plants and process facilities, usually depend upon force-draft fans and induced-draft fans to produce the draft necessary for operation, and the chimney is used only for removal of the flue gas. See Fan
For fire safety, chimneys for residential construction and for small buildings must extend at least 3 ft (0.9 m) above the level where they pass through the roof and at least 2 ft (0.6 m) higher than any ridge within 10 ft (3 m) of them. Some stacks extend as high as 500 ft (150 m) above ground level, thus providing supplementary natural draft.
A chimney or stack must be designed to withstand lateral loads from wind pressure or seismic forces (earthquakes), as well as vertical loads from its own weight. Small chimneys used in residential construction are commonly made of brick or unreinforced masonry, while stacks are usually made of steel. Tall steel chimneys of small diameter cannot economically be made self-supporting and must be guyed. Concrete chimneys may be plain or reinforced. Except for rectangular flues and chimneys commonly used in residential construction, masonry chimneys are usually constructed of perforated radial brick molded to suit the diameter of the chimney. See Brick, Loads, dynamic, Masonry, Mortar, Reinforced concrete, Truss
McGraw-Hill Concise Encyclopedia of Engineering. © 2002 by The McGraw-Hill Companies, Inc.
chimney

An incombustible vertical structure containing one or more flues to provide draft for fireplaces, and to carry off gaseous products of combustion to the outside air from fireplaces, furnaces, or boilers. Also see
clay-and-sticks
McGraw-Hill Dictionary of Architecture and Construction. Copyright © 2003 by McGraw-Hill Companies, Inc.