chuck
(redirected from chucked it)
Also found in:
Dictionary
,
Thesaurus
,
Medical
,
Idioms
.
chuck
1
a. a device that holds a workpiece in a lathe or tool in a drill, having a number of adjustable jaws geared to move in unison to centralize the workpiece or tool
b. a similar device having independently adjustable jaws for holding an unsymmetrical workpiece
---
chuck
2
Canadian W coast
1. a large body of water
Collins Discovery Encyclopedia, 1st edition © HarperCollins Publishers 2005
The following article is from The Great Soviet Encyclopedia (1979). It might be outdated or ideologically biased.
Chuck
a device for mounting and securing workpieces or cutting tools in metal-cutting or woodcutting machines. Chucks may be mechanical, pneumatic, electromagnetic, or hydraulic in operation. The most commonly used is the mechanical self-centering three-jawed lathe chuck, designed for holding regularly shaped workpieces (primarily bodies of revolution) and centering them on the lathe spindle axis. The gripping action of self-centering chucks results from rotation of a spiral-grooved plate in which the bottom surfaces of the chuck jaws are seated, causing a simultaneous, radial movement of the jaws.
A four-jawed lathe chuck is used for clamping irregularly shaped workpieces; its jaws travel radially and independently of each other. Fast-acting collet chucks are used for gripping small-diameter cylindrical workpieces on turret lathes and semiautomatic machines. Pneumatic and hydraulic chucks permit rapid gripping of the workpiece and freeing of the machined part. Electromagnetic chucks are used mainly for securing thin parts that can be deformed when clamped in chucks of other types.
The Great Soviet Encyclopedia, 3rd Edition (1970-1979). © 2010 The Gale Group, Inc. All rights reserved.
chuck
[

chək

]

(design engineering)

A device for holding a component of an instrument rigid, usually by means of adjustable jaws or set screws, such as the workpiece in a metalworking or woodworking machine, or the stylus or needle of a phonograph pickup.

(metallurgy)

A small bar between flask bars to secure the sand in the upper box (cope) of a flask.

McGraw-Hill Dictionary of Scientific & Technical Terms, 6E, Copyright © 2003 by The McGraw-Hill Companies, Inc.
chuck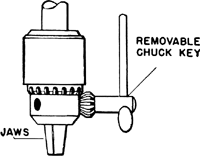 A device with adjustable jaws used for centering and holding a cutting bit, drill bit, etc.
McGraw-Hill Dictionary of Architecture and Construction. Copyright © 2003 by McGraw-Hill Companies, Inc.