cinquefoil
Also found in:
Dictionary
,
Thesaurus
,
Medical
,
Wikipedia
.
cinquefoil
(sĭngk`foil)

[O.Fr.,=five leaves], name for any plant of the widely distributed genus Potentilla of the family Rosaceae (roserose,
common name for some members of the Rosaceae, a large family of herbs, shrubs, and trees distributed over most of the earth, and for plants of the genus Rosa, the true roses.
.....

Click the link for more information.

family), chiefly herbs of north temperate and subarctic regions. Most cinquefoils are perennial; many but not all of them have leaves of five leaflets, for which they are also called five-finger. The flowers are most often yellow. Most North American species are native to cooler regions of the W United States. The shrubby cinquefoil (P. fruticosa) and the silverweed (P. anserina) are common wildflowers in the West and the Northeast; they are thought to be naturalized from the Old World. These and other species are sometimes cultivated in rock gardens. Silverweed is one of the species reputed to have medicinal powers, hence the Latin name of the genus [potens=powerful]. Cinquefoil is classified in the division MagnoliophytaMagnoliophyta
, division of the plant kingdom consisting of those organisms commonly called the flowering plants, or angiosperms. The angiosperms have leaves, stems, and roots, and vascular, or conducting, tissue (xylem and phloem).
.....

Click the link for more information.

, class Magnoliopsida, order Rosales, family Rosaceae.

The Columbia Electronic Encyclopedia™ Copyright © 2013, Columbia University Press. Licensed from Columbia University Press. All rights reserved.

www.cc.columbia.edu/cu/cup/
cinquefoil
A five-lobed pattern divided by cusps.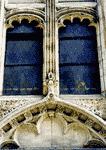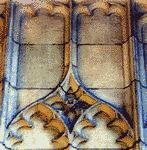 See also: Foils

Illustrated Dictionary of Architecture Copyright © 2012, 2002, 1998 by The McGraw-Hill Companies, Inc. All rights reserved
cinquefoil
Sharply toothed leaves, flowers have 5 yellow petals. (sometimes white, pink or red) Young shoots and leaves good in salads. Very astringent (constricts, shrinks membranes)- used in many anti-wrinkle skin products. Antiseptic, used for gum disease, dysentery, diarrhea, mouthwash. Good for skin. Leaves used to make lotion (or just rub strong tea on rashes etc) Powdered root stops bleeding. Has fruit that looks like strawberry but is dry and tasteless.
Edible Plant Guide © 2012 Markus Rothkranz
cinquefoil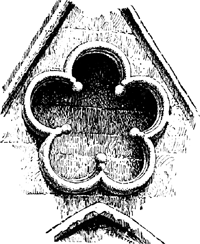 A five-lobed pattern divided by
cusps
; also see
foil
.
McGraw-Hill Dictionary of Architecture and Construction. Copyright © 2003 by McGraw-Hill Companies, Inc.
cinquefoil
traditional representation of hope. [Flower Symbol-ism and Heraldry: Jobes, 341]
---
cinquefoil
indicates gladness. [Flower Symbolism and Heraldry: Jobes, 341]
---
cinquefoil
symbol of motherly love. [Flower Symbolism: Jobes, 341]
Allusions—Cultural, Literary, Biblical, and Historical: A Thematic Dictionary. Copyright 2008 The Gale Group, Inc. All rights reserved.
cinquefoil
1. any plant of the N temperate rosaceous genus Potentilla, typically having five-lobed compound leaves
2. an ornamental carving in the form of five arcs arranged in a circle and separated by cusps
Collins Discovery Encyclopedia, 1st edition © HarperCollins Publishers 2005