cinquefoil arch
cinquefoil arch
A five-Iobed pattern divided by cusps; a cusped arch with five foliations worked into the intrados; a cinque-foil tracery at the apex of a window.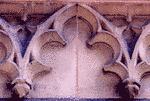 See also: Arch

Illustrated Dictionary of Architecture Copyright © 2012, 2002, 1998 by The McGraw-Hill Companies, Inc. All rights reserved
cinquefoil arch
A cusped arch having five foliations worked on the
intrados.
McGraw-Hill Dictionary of Architecture and Construction. Copyright © 2003 by McGraw-Hill Companies, Inc.