circulator
(redirected from circulate)
Also found in:
Dictionary
,
Thesaurus
,
Medical
,
Financial
,
Acronyms
,
Idioms
,
Wikipedia
.
circulator
A three- or four-port electronic device in which signals entering port number 1 appear only at port number 2, while signals entering port number 2 emerge only at port number 3, and so on. It is used, for example, in a radio telescope employing a negative-resistance preamplifier, such as a parametric amplifier or a maser amplifier; the circulator isolates the preamplifier from the antenna, which, if connected directly, might oscillate.

Collins Dictionary of Astronomy © Market House Books Ltd, 2006
The following article is from The Great Soviet Encyclopedia (1979). It might be outdated or ideologically biased.
Circulator
(also microwave circulator), a multiarm—that is, multiport—device for transmitting the power of high-frequency electromagnetic oscillations, usually microwaves, in a particular direction. The power that enters one of the ports is transmitted to another, strictly specified port in sequence. Circulators are classified as electronic and ferrite.
Electronic circulators make use of the ability of certain phase shifters to produce a nonreciprocal phase shift of π radians (see alsoPHASE INVERTER). Such circulators consists of discrete components, for example, transistors, diodes, or resistors. Three-port Y-shaped electronic circulators have lumped elements and are used in the frequency band from less than ten to several tens of megahertz.
The operation of ferrite circulators is based on the ability of ferrites that are magnetized in a constant applied magnetic field to produce—when they interact with an electromagnetic field or wave—a nonreciprocal phase shift, a nonreciprocal rotation of the plane of polarization (seeFARAD AY EFFECT), or a combination of waves such that the waves propagate in only one arm of the circulator. Several different types of ferrite circulators are distinguished. Phase-shift Y circulators have lumped elements and are used in the frequency band from hundreds to thousands of megahertz; in this type of circulator, the nonreciprocal phase shift is achieved by means of a magnetized ferrite rod or cylinder and a system of inductively coupled windings. Other types of ferrite circulators are based on junctions of rectangular or circular wave guides or on strip transmission lines, including microstrip lines. Such circulators may be Y-, T-, or X-shaped; they have distributed elements and are used in the frequency band from thousands to tens of thousands of megahertz. The X-shaped circulators are usually called four-port circulators. Examples of waveguide circulators include the four-port circulator known as a polarization rotator (see Figure 1) and the phase-shift circulator, which consists of two wave-guide bridges and two nonreciprocal ferrite phase shifters.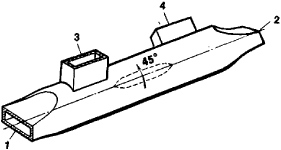 Ferrite circulators are the most promising. For example, they are used as switches, since the port sequence is reversed whenever the direction of the constant magnetic field is changed. In antenna feed lines, four-port and Y ferrite circulators are employed to switch an antenna or a phased-array module from the transmitting mode to the receiving mode. Y ferrite circulators in which one arm contains an absorbing load are used as electric valves. If several Y circulators are connected in series, a circulator array with any desired number of arms may be obtained. In conjunction with bandpass filters, circulator arrays make it possible to construct devices for the combination or separation of signals with different carrier frequencies; such devices require a minimum number of filters.
REFERENCES
Lebedev, I. V. Tekhnika i pribory SVCh, 2nd ed., vol. 1. Moscow, 1970.
Vol'man, V. I., and Iu. V. Pimenov. Tekhnicheskaia elektrodinamika. Moscow, 1971.
Knerr, R. H. "An Annotated Bibliography of Microwave Circulators and Isolators, 1968–1975." IEEE Transactions on Microwave Theory and Techniques, 1975, vol. 23, no. 10 (October).
The Great Soviet Encyclopedia, 3rd Edition (1970-1979). © 2010 The Gale Group, Inc. All rights reserved.
circulator
[

'sər·kyə·′lād·ər

]

(electromagnetism)

A waveguide component having a number of terminals so arranged that energy entering one terminal is transmitted to the next adjacent terminal in a particular direction. Also known as microwave circulator.

McGraw-Hill Dictionary of Scientific & Technical Terms, 6E, Copyright © 2003 by The McGraw-Hill Companies, Inc.